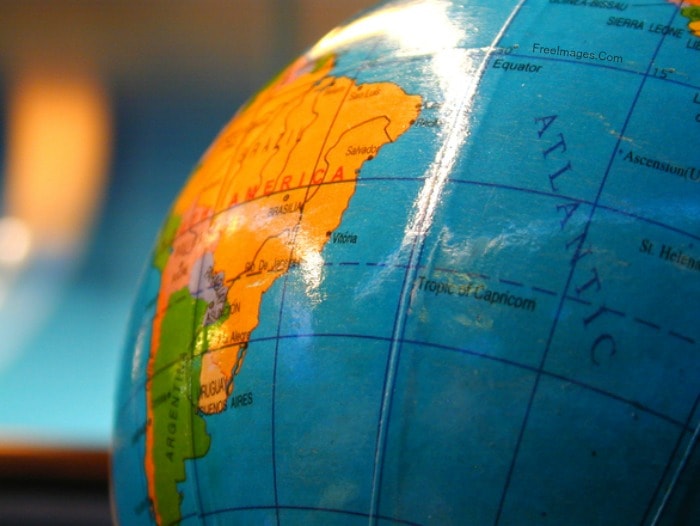 Confession. I didn't really know much about Earth Day until recently. The earliest I honestly remembered hearing about it was when I was in college. Even though the first Earth Day happened April 20, 1970 (a full 8 years before I was born) I don't think we did much with Earth Day when I was in grade school. I think many people were still oblivious at that point about the effect our day-to-day living was having on our environment.
Now I'm a lot more cognizant about my impact on the environment, not just on Earth Day, but every day. I recycle. I use less water. I try to purchase and organic products when I can. I'm also much more away of the use of neonicotinoids and the decline of the bee population. While fewer bees might mean fewer stings, it also means fewer crops for us. Bees pollinate 70% of the crop species that we eat. For example, say goodbye to all of those lovely Michigan apples for which our state is famous.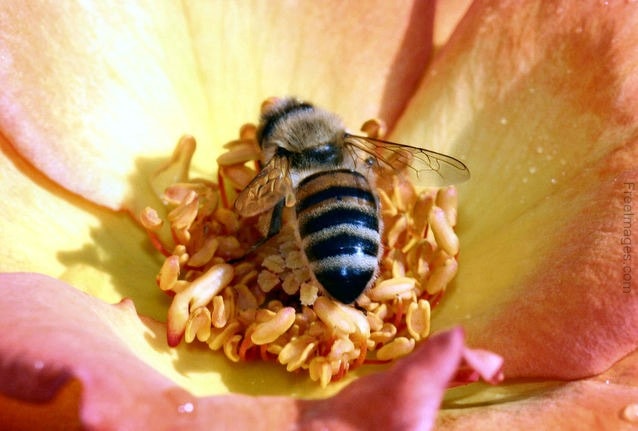 And of course, without bees we would not have honey. Just in time for Earth Day, Wedderspoon recently sent me raw Dandelion and Manuka Honey. Unlike most honey found in stores, raw honey is not heated or pasteurized. Unfortunately processed honey losses most of its helpful antioxidants and healing properties. For example, Wedderspoon's Raw Manuka Honey health properties may help in balancing bacteria in the gut. For someone with Celiac Disease, I find this especially helpful. Many people take a tsp or so daily as part of their health regimen.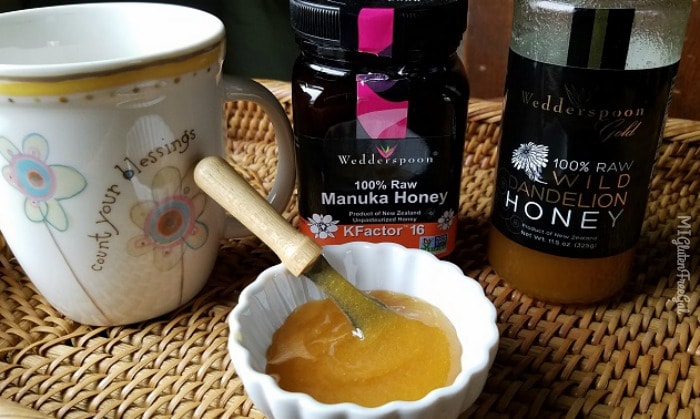 Of course, honey can also be used in cooking and baking. As honey is sweeter than sugar, one can use less of it in baking than sugar. In addition, honey has a rich flavor that processed sugar does not. The Kitchn has the 4 following tips for using honey instead of sugar in baking.
Replace sugar with 1/2 or 1/3 less honey
Use less liquid in your recipe. For every 1 cup of honey used, omit 1/4 cup of other liquids in the recipe.
Add 1/4 tsp of baking soda to you recipe. This balances its natural acidity, allowing your baked goods to rise.
Reduce the baking temperature by 25 degrees.
So to test out The Kitchn's guidelines, I decided to make gluten-free honey sweetened muffins on this Earth Day. This muffin is a basic recipe. You can add in your own additions as necessary. I added sliced almonds and butterscotch chips, which would make them not dairy-free or nut-free. My husband loved them, stating they reminded him of French toast! However you can use any mix-ins that you want! I adapted this recipe from Betty Crocker using Bob's Red Mill 1-to-1 Baking Flour.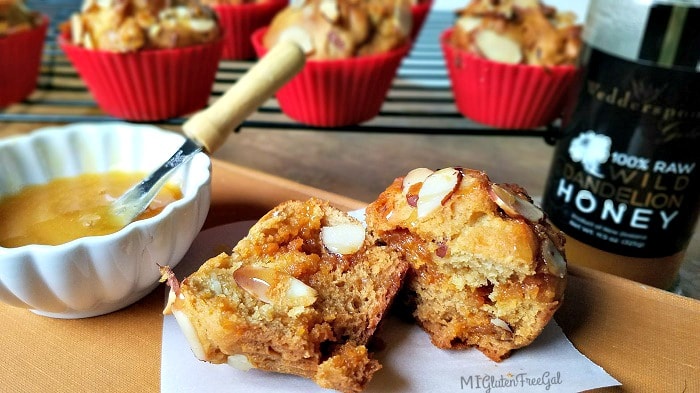 Gluten-Free Honey Sweetened Muffins
1 egg
1/3 c. + 2 tbsp milk of your choice ( I used skim milk)
1/4 canola oil
1/4 c. raw honey
1 tsp almond extract (you can use vanilla extract instead)
1 1/2 c. Bob's Red Mill 1-to-1 Baking Flour
2 tsp baking powder
1/2 tsp salt
1/4 tsp baking soda
Mix-ins
1/2 c. slivered almonds + more for topping
1/3 c. butterscotch chips
1. Preheat oven to 350 degrees. In small bowl, whisk egg and milk. Add oil and honey, measuring oil first. Doing so will allow you to measure the honey and have it easily slide out of the measuring cup. Whisk, then add extract, whisking again until all are combined. Set aside.
2. In larger bowl, mix together flour baking powder, salt and baking soda. Give it a quick whisk to make sure all ingredients get combined equally. Slowly add wet ingredients to wet and whisk to incorporate. Use spatula or spoon to stir in butterscotch chips and almonds, or whatever mix-ins you prefer.
3. Fill silicone muffin cups 2/3 full. Top with a few slivered almonds for garnish. Bake for 22-25 minutes. (I think my total time was 22 minutes.) I would suggest rotating the pan halfway through to prevent almond slivers from burning and to achieve uniform browning.
These muffins are so soft and tender coming right out of the oven. It was hard to to eat them all! I stored them in container the next day and they weren't as moist. However, I didn't cover them overnight, and that may have lead to them drying out.
What Earth Day causes are closest to your heart? Are you a fan of Wedderspoon honey? What's our favorite way to use it? Please share with me below!