Salmon patties were not part of my childhood upbringing. The first time I ate them was at my in-laws house. I believe it was prior to our marriage, and prior to me being super strict about my gluten-free diet. One thing I know for a fact. My very first salmon patties were made with canned pink salmon. Honest truth? Not a fan.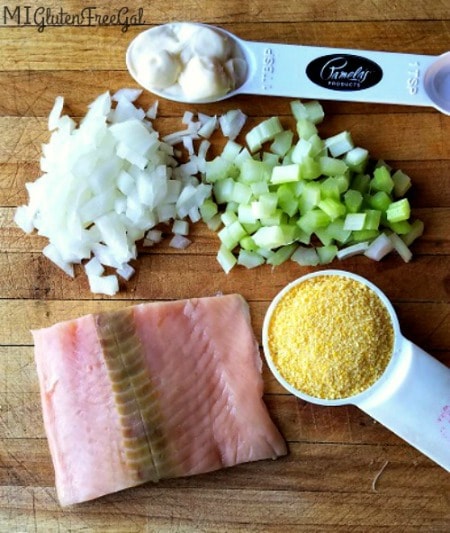 My second experience with salmon patties was from our church cookbook. You know, the cookbook where people share their jello salads and every dessert under the sun. (Like that bizarre lemon jello dish that has canned ham in it that Miss Velma thought was oh so good. No? Count yourself lucky.) Those salmon patties also called for canned salmon, but I used leftover cooked salmon instead. It also called for mashed potatoes and cooking the patties for 20 minutes. Yeah, they were a bit…dry.
So I dared to be wild. Wild as in fresh salmon, that is. If I was going to create salmon patties for my readers, I wanted them to be noteworthy. Memorable. Pinnable. (God help me, some day I WILL get around to conquering Pinterest.) So I did my research. The math minor in me even created a spreadsheet, comparing quantities and methods of various recipes. The work I put myself through to share recipes with y'all is worth it. (That and I'm afraid of failure and need some sort of recipe to follow. The struggle is real, folks.)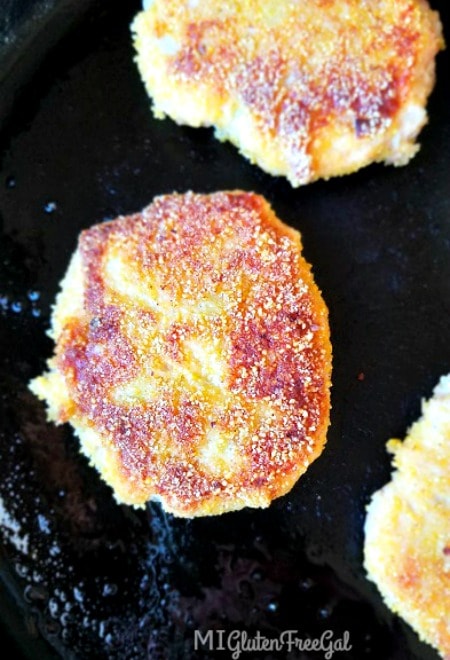 Through my investigation of creating the best salmon patties, I discovered an idea I had not perceived. (Perceived might not be the right word. But I'm desperately trying to not end my sentence in a dangling participle. Did I mention I also have a minor in Language Arts?) I know that crumbs were needed as a binder IN the salmon patties. However, many also use crumbs as a coating OUTSIDE of the salmon patties. Eureka! What followed were firm salmon patties with a beautiful golden color. Seriously elated over here, folks.
When I made these, I started with thawed salmon that had been frozen. While it worked, I think these would be made better with truly "fresh" salmon. I blended mine in a mini food processor after watching one of Paula Deen's sons make them in a video. In my next attempt to make these, I think I'll just try the salmon into really small pieces. Other than that, I'm pretty happy with this recipe. Make sure they're cooked all the way through, maybe 5 minutes a side. Alternatively, you can bake them at 350 for approximately 25 minutes.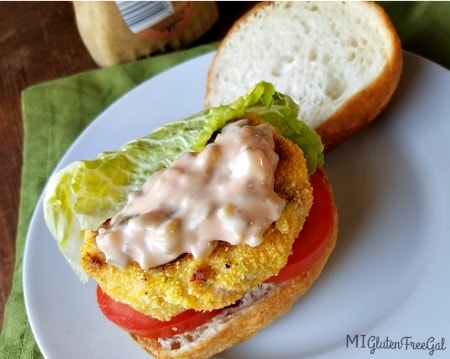 Proper presentaton of salmon patties always causes me panic. Some people serve them on buns, some on lettuce leaves, and some people serve them simply on their own. Which serving method is best? When we ate them, I served them on a lettuce leaf. Didn't make for the best photo though. So I whipped up a small batch of remoulade, placed that baby on a Canyon Bakehouse bun, and let her shine in all her glory. But I'll let you eat your salmon patties any which way you choose. Although, a dinner invitation when you make them would be greatly appreciated. xoxo
Gluten-Free Salmon Patties
1 lb fresh salmon
1/4 onion, finely diced
1 rib celery, finely diced
1/2 c crumbs, divided
2 tbsp mayo
1/2 tsp salt
1 tbsp lemon juice
1 egg
1 tsp dijon mustard
1. Finely dice raw salmon, onions and celery. (If desired, use small mini food processor to combine.) Place in large mixing bowl.
2. Add 1/4 cup of tortilla or gluten-free corn cereal crumbs, mayo salt, lemon juice, egg and mustard. Stir until all ingredients are well combined. Refrigerate for at least one hour.
3. Lightly coat skillet in oil and warm over medium heat.
4. fter mixture has chilled, form into patties the size of your palm. Coat each side of patty in crumbs. Cook on each side approximlatey 5 minutes. Alternatively, they can be baked in a 350 degree oven for 25 minutes.
5. Serve with tartar sauce or remoulade and enjoy!
Are you a fan of salmon patties? What's your favorite recipe? Share with me below your favorite way to eat them!