I love a good, moist gluten-free brownie. I mean, when chocolate's involved, what's not to love? I've made loads of "regular" brownies in my lifetime. However, I wanted to step my chocolate game up a notch. Therefore, I tried my hand at these gluten-free banana flour brownies with a SunButter swirl. I must say, they're quite a treat!
I received this Let's Do Organic banana flour in my American Gluten Free box. I've been hearing loads about banana flour for years. Thanks to my subscription box delivery, I could finally try it. Banana flour is intriguing. In this recipe for gluten-free banana flour brownies, I find that the banana flour worked best when mixed with other flours. In my opinion, to date I have not found any single-ingredient flour that can be substituted directly for wheat flour. To mimic the gluten proteins in wheat flour, gluten-free ingredients need to be made with a blend of flours and starches.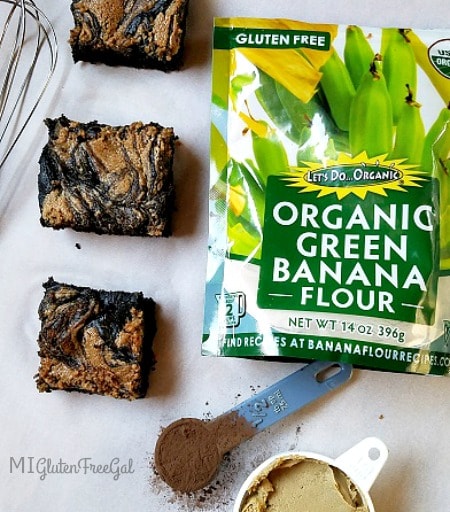 Banana flour is an intriguing ingredient. Banana flour contains the highest amount of resistant starch found in food. The body does not break down resistant starches, similar to fiber. Resistant starches fuels the body's production of healthy gut flora, therefore making is a prebiotic. This gut flora is formed through fermentation of these resistant starches. Therefore, you might want to gradually add banana flour to your diet to prevent any type of gastric distress. In other words, don't pig out on these brownies all in one sitting, or you might get a stomach ache! All the more reason to share these gluten-free banana flour brownies with your friends! (You might be able to play with the recipe a bit and decrease the amount of banana flour and increase the rice flour. However, I haven't tried that yet.)
Creating this recipe for gluten-free banana flour brownies took a bit of research. I looked at the Zuvii (formerly Wedo) website, which has been producing banana flour for years. Unable to find a recipe for brownies on their website, I played with their chocolate cake recipe a bit. I know one adds extra eggs to a brownie mix to make them "cake-like." So my hypothesis is that I could remove an egg from their recipe to get them to turn out more like brownies. Score! I found my inspiration for the SunButter swirl from a brownie recipe on the Bob's Red Mill website.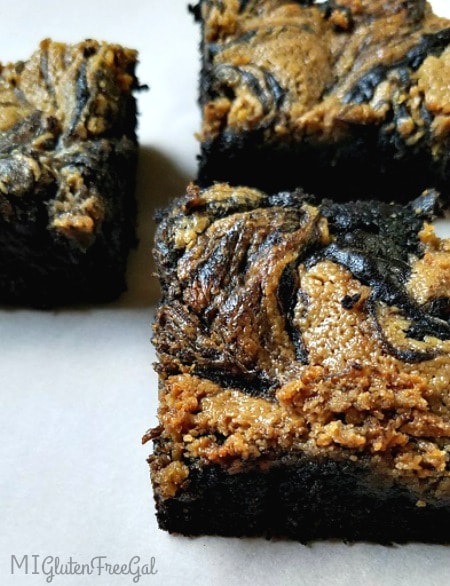 So here's the recipe I came up with for gluten-free banana flour brownies with a SunButter swirl!
Gluten-Free Banana Flour Brownies with SunButter Swirl
Ingredients
Brownie Ingredients

1 c. banana flour
1/3 c. rice flour
1 ½ c sugar
2 tbsp corn starch
1 tsp xanthum gum
½ c dark cocoa
1 ½ tsp baking powder
1 ½ tsp baking soda
1 tsp salt
1 egg
1 c. milk
2 tbsp oil
2 tbsp natural applesauce
2 tsp vanilla
1 c. hot coffee

SunButter Filling

¾ c. SunButter
¼ c. butter, melted
½ c. powdered sugar
½ tsp vanilla
¼ tsp salt
(optional- ¼ c. chopped peanuts if using PB)
Instructions
Preheat oven to 350 degrees.
Combine dry ingredients in large bowl
In a large Pyrex measuring cup, measure milk. Add vanilla, egg, oil, applesauce and mix well.
Add wet ingredients to dry ingredients. Once blended well, add COFFEE and blend well.
Let rest 5+ minutes while preparing SunButter topping.
Wash out previous measuring cup used for milk, etc. Place SunButter and butter in measuring cup and microwave on high approx 20 seconds. Whisk together until smooth. Add powdered sugar, vanilla and salt. Mix all ingredients well together.
Grease 2 8-inch round pans or one 9 x 13 pan. Coat lightly with gluten-free flour. Put batter in pan(s). Drop small dollops of SunButter spread on top of brownie batter, approx an inch apart. Using knife, swirl SunButter topping into brownie batter.
Bake in 350 degree oven for approx. 30-35 minutes. SunButter topping will set more as it cools.
7.6.7
5
http://miglutenfreegal.com/2017/03/22/gluten-free-banana-flour-brownies-sunbutter-swirl/
**Page contains affiliate links**
Have you used banana flour? What's your favorite recipe? Leave me a note in the comments!