My dad cooks one culinary masterpiece that has become his signature dish. Every family gathering, you can almost bet that he will bring his gluten-free meatballs. These juicy meatballs are present at every Christmas party, family potluck, and any other time there's good cause for a celebration. My dad claims them as a "secret family recipe", but I'm choosing to pass this on to you! So welcome to the family, and make a batch of these great meatballs.  They're definitely a slam dunk for your March Madness viewing party!
In all honesty, this recipe for gluten-free meatballs underwent some alterations since its inception. In my younger years, my dad made these with beer and Kellogg's Corn Flakes. While one could use a gluten-free beer, Kellogg's Corn Flakes are not gluten-free because they contain malt. Instead, look for corn flakes that are truly gluten-free, such as the one manufactured by Nature's Path. Another great possibility is to used crush Corn Chex. Chex underwent a huge reformulation years ago and took out all the malt from their cereal. (Their Wheat Chex obviously would still be unsafe to use.) I use crushed Corn or Rice Chex all the time in recipes.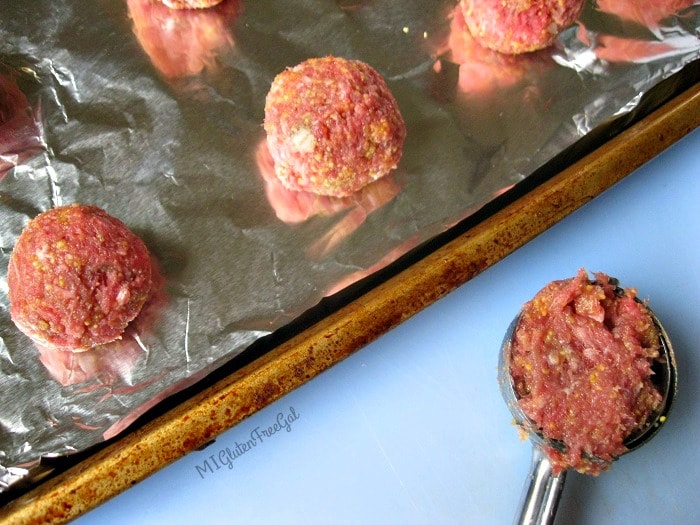 While these gluten-free meatballs are used best with my dad's signature sauce, they're pretty versatile. You could add other seasonings based on how you'd like to use them. Add Italian seasoning and serve them with marinara and spaghetti. (They'd work great as a meatball sub this way too!) Add a pinch of Chinese Five Spice and serve them with a sweet and sour sauce over rice. One could also leave them plain and place them in a kid's lunch with dipping sauce for a fun hands-on meal. The possibilities truly are endless. These freeze and thaw really well, sans sauce, so make up a batch in advance for your next gathering!
Gluten-Free Meatballs
4 lbs ground beef (I used ground sirloin, my dad uses ground chuck)
1/4 c chopped onion
4 eggs
1 c gluten-free beer (OPTIONAL)
1 tbsp garlic salt
1 1/2 tsp salt
1/2 tsp black pepper
2 pkg gluten-free onion soup mix ( I used Riega – here's a recipe to make your own)
2 c gluten-free corn flake crumbs
Sauce
3 c ketchup
3 c grape jelly
1/4 c bbq sauce
Directions:
Line cookie sheet with tinfoil and coat with cooking spray. Mix ingredients in large bowl with fork or potato masher. (You can mix with your hands as well. If so, I highly suggest removing rings first.) Using a 1 oz scoop, gather a portion of the gluten-free meatball mixture. Drop in the palm of your hands and roll into a ball.
Bake gluten-free meatballs in the oven, one sheet at a time,  at 350 for 15 minutes. I highly suggest flipping them after 7 minutes. Remove baked meatballs from cookie sheet and place in crockpot or dish with lid. Repeat until all meatballs are cooked.
In a medium sauce pan, combine ketchup, grape jelly and barbecue sauce. (The barbecue sauce is optional, but I highly suggest it to cut the sweetness of the sauce.) Cook until jelly melts completely. Allow to cool. Finally, layer cooked meatballs and sauce in slow cooker. Cook gluten-free meatballs on low heat for at least 4 hours. Stir occasionally so sauce does not burn.