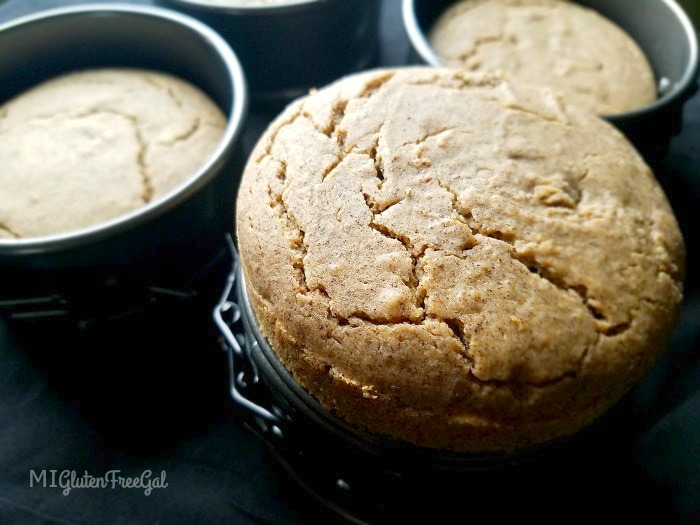 My homemade recipe for buckwheat bread was truly a gift. It was given to me by my husband's grandfather, whom we affectionately called Papa Earle.  He was a tall man with a strong presence. He was a teacher in a one-room schoolhouse, a principal in a public school, and an college instructor. He always clearly spoke his mind. Through it all he always had a heart of gold.
When my husband Brad and I were first married, Papa Earle attempted to accommodate my Celiac Disease needs as much as possible. One day he surprised me with a loaf of homemade buckwheat bread. He had researched recipes, played around in the kitchen, and delivered to me what I remembered the best tasting loaf of bread I've ever eaten. I think it was because it was made with his love and concern.
Years later, I make it myself. I still have his hand-written note with the recipe, along with his kind words and sense of humor. I was always amazed at his beautiful penmanship. On the back it says if I have "any questions" I can "call the Expert." He ended the note –  "Love G & G Clegg." It paper may have  a few oil spots on it, but I cherish it dearly.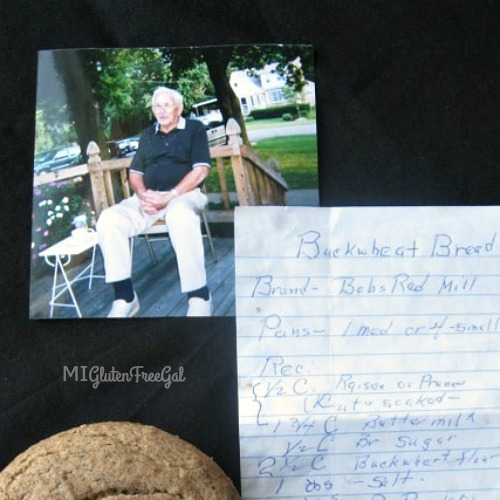 Despite its name, buckwheat doesn't contain wheat. It's actually a seed and a member of the rhubarb family. It is an excellent source of heart-healthy nutrients. A 1955 study, published in the American Journal of Clinical Nutrition, showed that consumption of buckwheat lowered total cholesterol while improving HDL cholesterol levels. Buckwheat contains a very high of a flavonoid called rutin. This prevents blood clots by hindering the production of blood clots. According to the website World's Healthiest Foods, buckwheat is also very high in magnesium, which relaxes blood vessels and improves blood flow.
While buckwheat is a naturally gluten-free grain, please remember that cross-contact with gluten containing grains can occur in processing. This issue was highlighted in a study done by Tricia Thompson of Gluten Free Watchdog and dietitian Anne Lee. Please make sure that the buckwheat you are purchasing is certified gluten-free. Although Papa Earle originally used Bob's Red Mill Buckwheat Flour for this recipe, it is not made on their dedicated gluten-free line. I order my buckwheat flour through Birkett Mills. Arrowhead Mills also sells an organic buckwheat flour certified through the Gluten Intolerance Group.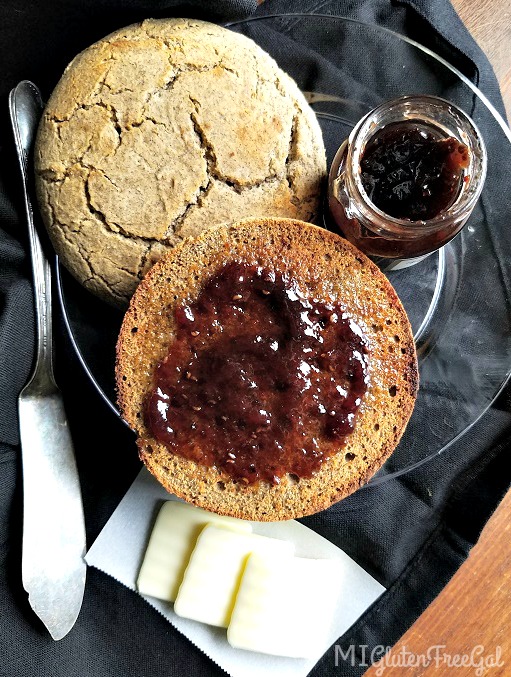 Buckwheat Bread
1/2 c. soaked raisins
1/2 c. brown sugar
1 3/4 c. buttermilk
2 1/2 c. buckwheat flour
1 1/2 tsp. salt
1 tbs. baking powder
1. First, preheat oven to 325. Soak raisins in hot water until plump, 10-15 minutes. (Or place them in lukewarm water overnight.) Drain off excess water and place raisins in mini food processor. Add brown sugar and blend until smooth. Add up to 1/4 cup of the buttermilk if necessary to aid in blending. (Add more than that and you'll have a mess!)
2. In a large bowl, mix together flour, salt and baking powder. Whisk together to blend. Next, slowly mix in blended raisins and brown sugar mixture, and the remaining buttermilk. Mix until thoroughly combined. Place in greased pans and allow to rest for 10 minutes.
3. If using large pans, bake bread for 45 minutes. I bake my bread in small springform pans, and bake them for 30 minutes. Let cool completely before serving.
What's your favorite way to use buckwheat flour? I'd love to learn some additional recipes!