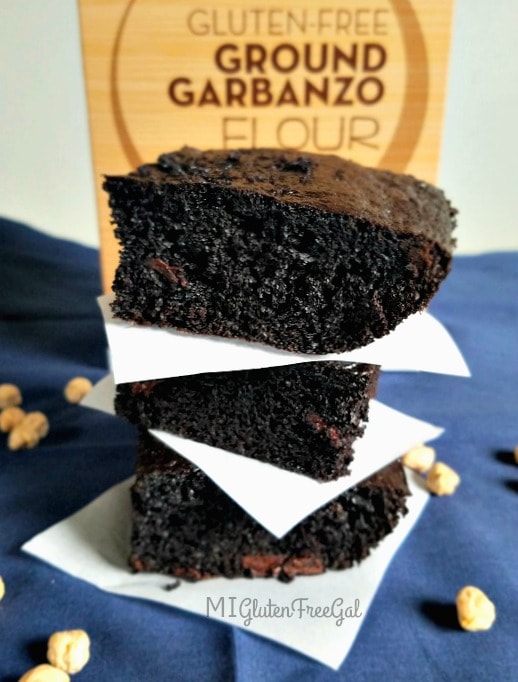 I really like chocolate. Chocolate cake. Chocolate pudding. Chocolate chips. Unfortunately my waist line doesn't like chocolate as much as my taste buds do. That's why I LOVE these gluten-free chickpea flour brownies. (Please know that not all chickpea flours are created equal. Look for one that is certified gluten-free, because many can processed on shared lines with wheat.) They're loaded with high fiber chickpea flour. I took a cookbook recipe loaded with fat and tons of sugar, and made some alterations that make it healthier but still amazingly delicious!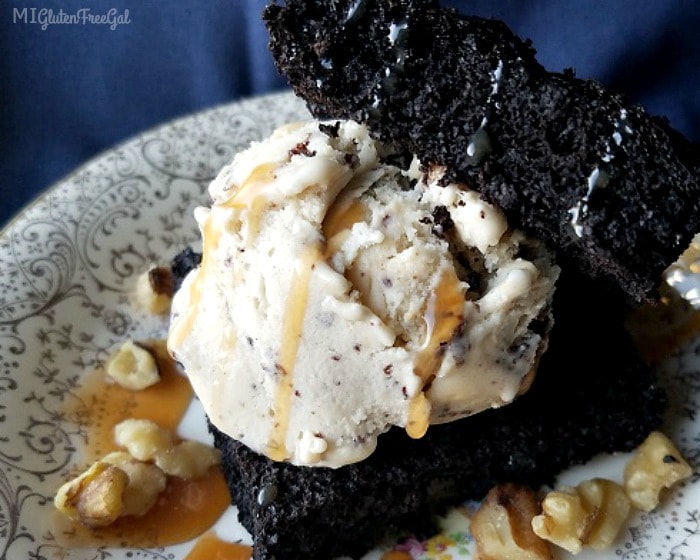 Here are some of my tricks to "healthify" these gluten-free chickpea flour brownies. This recipe is based off one in 101 Best Gluten-Free Foods. First, I changed the soy flour to chickpea flour. Research shows chickpeas have some of the best cholesterol lowing capabilities among various legumes. Another healthy swap is unsweetened applesauce. Not only can you substitute it for half the fat in a recipe, but applesauce can also provide extra lift in baked goods. Which, let's face it, is always a bonus for gluten-free baked goods. Since 1/4 of applesauce can be used as a substitute for eggs, we can cut down the number of eggs in this recipe too!
I also love using Hershey's Special Dark Cocoa. The depth of taste allows you to add rich chocolate flavor without the extra fat and calories. The recipe for these gluten-free chickpea flour brownies calls for butter, but you could substitute Earth Balance Buttery Sticks is you wanted to make them dairy-free. I imagine one could use coconut oil, but i haven't tried that yet. While these can be made in an 8 x 8 baking dish, they're also fun baked in an iron skillet and topped with ice cream. Especially if that ice cream has chocolate in it. 🙂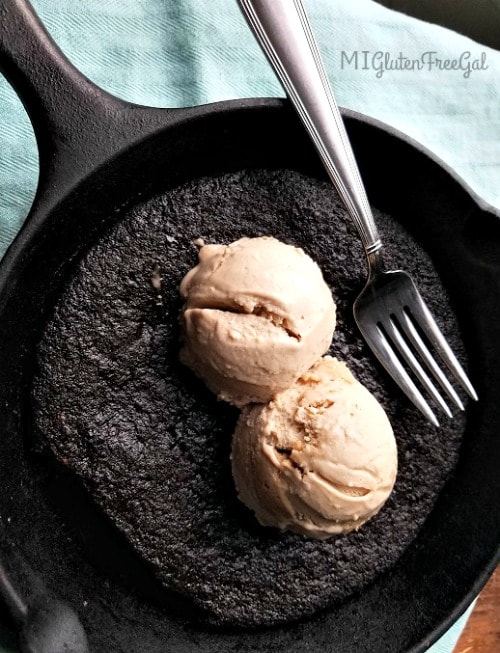 Gluten-Free Chickpea Flour Brownies
1/4 c. chickpea (or garbanzo bean) flour (I use Vitacost certified gluten-free garbanzo flour)
1/4 c. cornstarch
1 tsp baking soda
1/4 tsp salt
1/4 c. dark cocoa powder (I use Hershey's Special Dark Cocoa)
1/4 c. butter (or Earth Balance Buttery Sticks)
1/4 c. brown sugar
1/4 c. white sugar
1/4 c. UNSWEETENED applesauce
1 tsp. vanilla
1 egg (2 eggs if you want to make them "cake-like")
1/2 c. chocolate chips (or 2 Enjoy Life Snack Packs)
Directions
1. Preheat oven to 350 degrees. Grease an 8 x 8 baking dish and lightly coat it in rice flour.
2. Mix together chickpea flour, corn starch, baking soda, salt and dark cocoa powder.
3. Melt butter in large microwave-safe mixing bowl (such as a Pyrex or Pampered Chef Batter Bowl), just until mostly melted. Add brown and white sugar, stir, and microwave again for an additional 20-30 seconds. (This can be done on the stove top if you're not a fan of using a microwave.) Remove from microwave and add applesauce. Stir well until well blended.
4. Add dry ingredients to wet ingredients until well mixed and all dry ingredients are moistened. Add the vanilla and egg to the batter. Stir well until thoroughly mixed. Add mini chocolate chips and stir until combined.
5. Bake for 25-30 minutes until set.
What's your favorite brownie recipe? What else do you like to make with chickpeas or its flour? (Find four others uses for chickpeas on my site!) Share your favorite recipes in the comments!
**This post contains affiliate links. This passes on no cost to you, but helps in the maintenance of this site. Thank you for your support!**