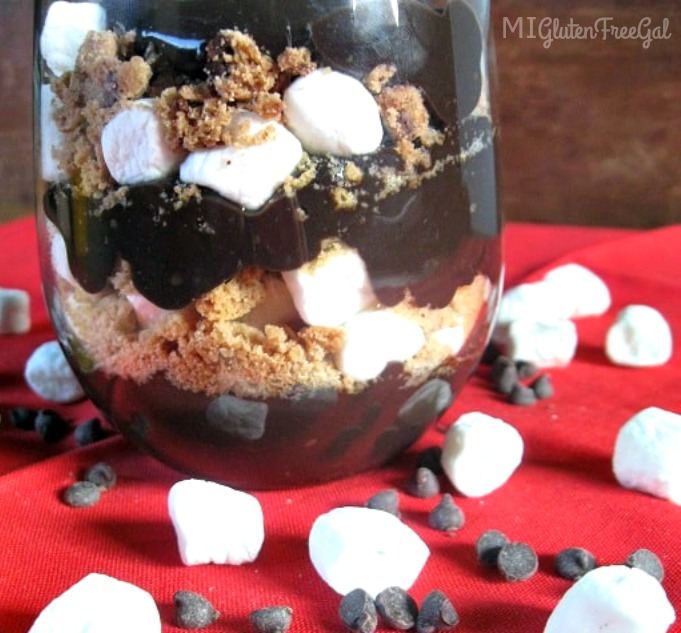 No matter how old I get, I will always love pudding. Chocolate. Butterscotch. I even get a hankering for a custardy rice pudding every now and again. I make homemade pudding all the time, because it's SUPER easy! But dairy-free pudding? That's something I've never attempted. Until now. I'm over-the-moon excited how well my dairy-free gluten-free chocolate pudding turned out! The possibilities on how to use it are endless!
This dairy-free gluten-free chocolate pudding can be the launch pad for so many culinary adventures. For example, take this S'mores pudding parfait for example. Crush up some Enjoy Life Foods Vanilla Honey grahams, layer it between stratas of pudding and pillowy marshmallows, and you have a treat that looks like kids play but any adult will eat with gusto.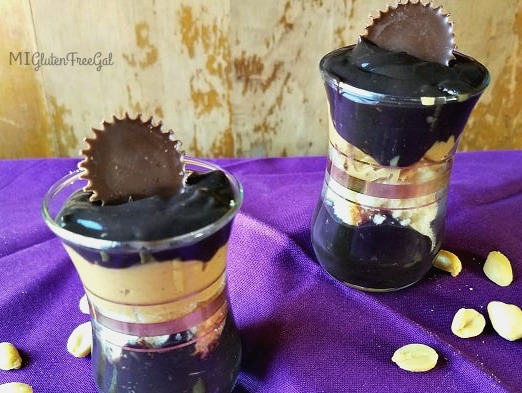 Then there's the combo of peanut butter and chocolate. Few other pairings are as perfect. Layer this dairy-free gluten-free chocolate pudding with peanut butter, a bit of leftover cake crumbs, and top with a dairy-free Sun Cup. (Or if you can have a little bit of dairy, top with a Reese's mini PB Cup like I did.) This little shooter of sweet and savory delight was the perfect ending to our evening. This dairy-free gluten-free chocolate pudding is perfect as a pie filling as well!
So how did I come up with this delicious dairy-free gluten-free chocolate pudding? I didn't. Well, not entirely. I simply made two small substitutions (canned coconut milk & coconut oil) in a Martha Stewart recipe. I've been using the basic recipe for over a year. It utilizes egg yolks, which I always seem to have left over after making bread. So this dairy-free gluten-free chocolate pudding isn't vegan, but it's great for those who have a dairy allergy or lactose intolerance.
⅔ cup sugar
¼ cup cornstarch
¼ tsp salt
¼ cup dark chocolate cocoa powder (Leave out if you want to make vanilla pudding.)
2 ½ cup canned coconut milk (NOT the stuff from the carton in the refrigerated section.)
4 large egg yolks
2 tbsp coconut oil
1 tsp vanilla extract
1. In a medium saucepan, OFF HEAT, whisk together sugar, cornstarch, and salt. If making chocolate pudding, add cocoa powder. Very gradually (a few tbsp. at a time) whisk in coconut milk, taking care to dissolve cornstarch. Whisk in egg yolks.
2. Place saucepan on burner. Whisking constantly, cook over medium heat until the first large bubble forms and sputters. Reduce heat to low; still whisking, cook 1 minute. Remove from heat. Stir coconut oil and vanilla into hot pudding.
3. Either in individual bowls, or whole pan, place plastic wrap directly on surface of pudding. This is done to prevent skin from forming on pudding. Chill at least 3 hours and up to 3 days. Before serving, whisk pudding until smooth.
What's your favorite pudding flavor? (Check out Martha's site for other pudding flavors!) What's for favorite way to indulge in this childhood favorite? Leave me a comment below!