What cookie do you think most represents the state of Michigan? We have state trees, birds, flowers, even a state children's book. However, there is no state cookie. Bob's Red Mill asked this very question as part of their #BobsCookieContest. I hereby submit these gluten-free cherry chocolate chunk cookies as a great representation of our Great Lakes state.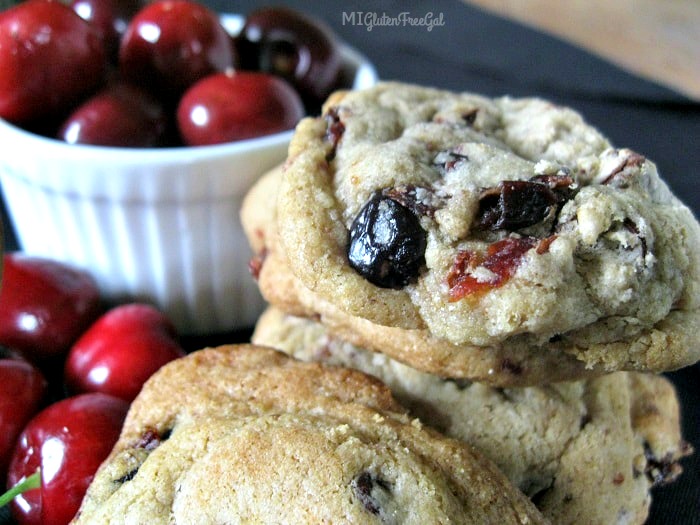 Did you know that Michigan produces more tart cherries than any other state in the country? No wonder Traverse City is designated as the permanent home of the National Cherry Festival! Usually people think of pie or cobbler when baking with cherries. I think these gluten-free cherry chocolate chunk cookies should be just as revered. The blend of the tartness of the cherry with the sweetness of the chocolate chunk tastes like a chocolate covered cherry, wrapped up in buttery cookie dough. One bite and you'll be hooked!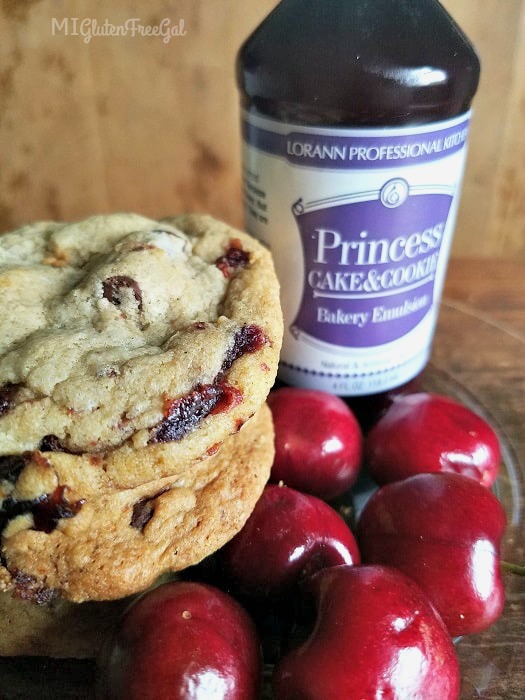 LorAnn Oils, made right here in Michigan, makes a unique bakery emulsion called "Princess Cake and Cookie." The owners were graciously provided me with some to try. When I opened the bottle, the aroma of amaretto greeted my nostrils. At least, that's what it smells like to me. A hint of almond and the sweetness of fruit is what I noticed. Due to those taste notes, I felt they would be PERFECT for these gluten-free cherry chocolate chunk cookies.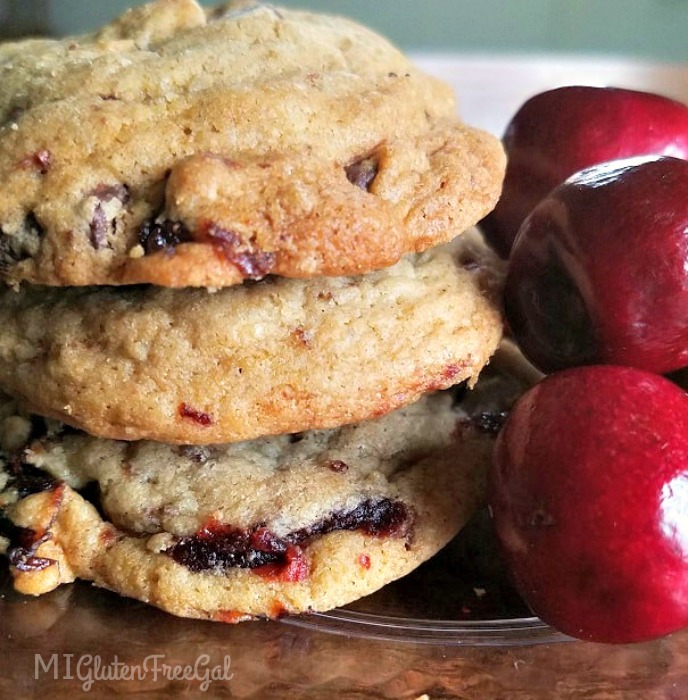 I did quite a bit of research prior to making these gluten-free cherry chocolate chunk cookies. I looked at other recipes, tips on baking the perfect cookie, even ideas for when your cookies don't turn out as you had planned. Many bakers will suggest baking 1 or 2 cookies from your dough to see how they will respond to baking. I used Bob's Red Mill Gluten-Free 1 to 1 Baking Flour. I've been using Bob's Red Mill products since I was diagnosed with Celiac Disease over a decade ago. Their products have been faithful in helping me create all sorts of baked goods. If you want to use a different flour for this recipe, make sure to test bake of a few cookies first. Every gluten-free free flour has different absorption rates, and this will affect how your cookie turns out. You can also use all butter instead of mixing it with coconut oil. (I use coconut oil instead of shortening in recipes.) Your cookies might spread more, so again they might need a touch more flour to prevent spreading.
Gluten-Free Cherry Chocolate Chunk Cookie Recipe
2 ½ c Bob's Red Mill Gluten Free 1 to 1 Baking Flour (plus an additional 2 tbsp if needed)
1 tsp baking soda
1 tsp salt
1 cup dried cherries, chopped
¾ c warm tart cherry juice
½ c butter (softened)
½ c coconut oil softened)
1 cup brown sugar
½ c white sugar
2 eggs
1 ½ tsp Lorann Princess Cake and Cookie Bakery Emulsion
½ tsp tart cherry juice
10 oz. bag Enjoy Life Semi-Sweet Chocolate Mega Chunks
1. Chop dried cherries and sock in ¾ c warm tart cherry juice for approximately 10 minutes.
2. Using stand or hand mixer, cream butter in large bowl until smooth. Add coconut oil and sugars, and continue creaming until well combined. Blend in each egg into the creamed sugar mixture, one at a time. Add LorAnn Princess Baking Emulsion and 1/2 tsp tart cherry juice. Blend until well combined. Set aside.
3. In smaller bowl, mix together flour, salt and baking powder. Gradually add dry ingredients to wet, about one third at a time. Make sure to scrape bowl in between additions to make sure all flour has been incorporated into the wet.
4. Drain dried cherries of the added juice. Discard liquid extra liquid. Add drained cherries and mega chunks to batter and mix in with rubber spatula.
5. Cover dough and chill for at least one hour or longer.
6. Preheat oven to 350. Line a cookie sheet with parchment paper. Using a medium scoop, place dough balls on cool cookie sheet. Place in oven and bake 8-10 minutes. Let cool on try 2-3 minutes prior to moving to cooling rack.
(I suggest only baking 1 or 2 cookies on the first try to decide how long to bake your cookies or if you need additional moisture of flour.)
What cookie is your favorite? What's your favorite regional ingredient with which to bake/cook? Leave me a note in the comments below!