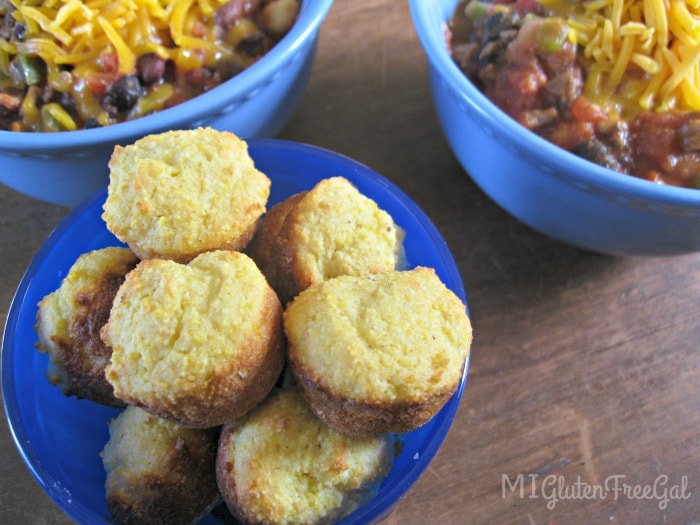 I love cornbread. It's great with soup, our favorite chili, or simply straight out of the pan all by itself. It also makes a great base for your stuffing. I've been making this easy gluten-free cornbread recipe by Bette Hagman for over a decade. Her cookbooks are an amazing gluten-free resource for those who are newly diagnosed. It uses no special "gluten-free flour." Just cornmeal and corn flour, some fat and moisture and a bit of leavening. And just a touch of sugar. My husband loves its deep, rich corn flavor. I achieve that by grinding Bob's Red Mill gluten-free polenta** in my coffee grinder. (I put it on the espresso setting!) If you've been missing Jiffy mix, you can make this cornbread from scratch just as fast.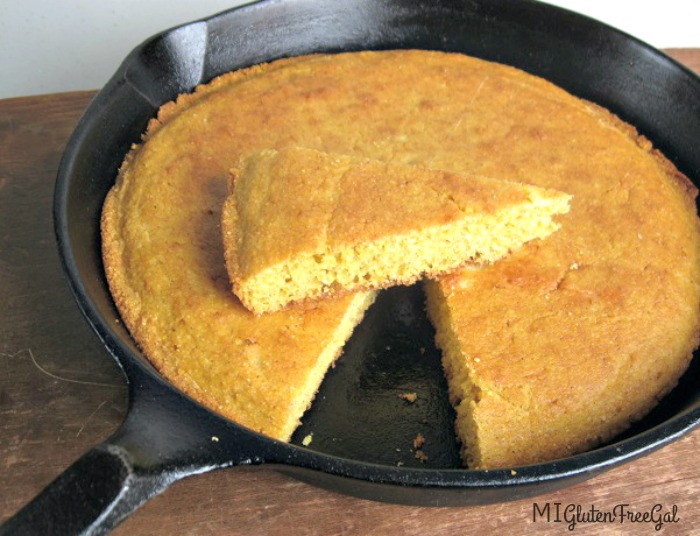 You can make this easy gluten-free cornbread in any vessel you choose. I've made it in regular muffin tins, mini muffin tins, and a cast iron skillet. There's something so rustic and appealing about cornbread made in cast iron skillet. If you choose to do so, make sure to oil and preheat the skillet in the oven. Doing not only prevents it from sticking, but gives the most beautiful golden brown color on the bottom. I'm salivating just writing about it. You go make a batch while I sneak some from the skillet!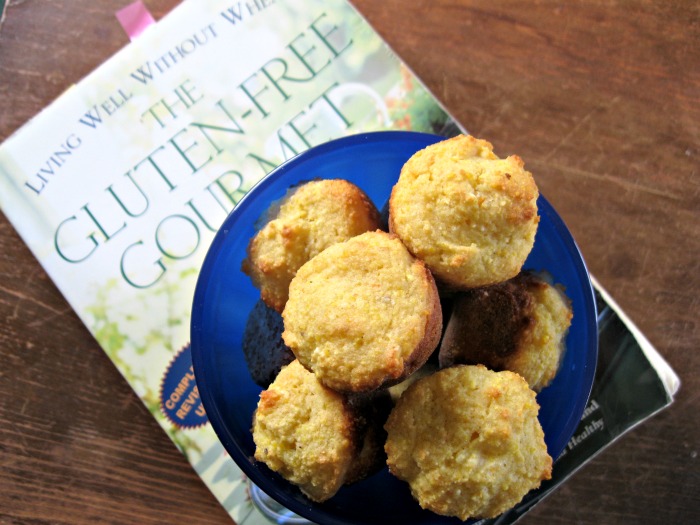 1 cup yellow cornmeal
1 cup corn flour
1/4 cup sugar
2 teaspoons baking powder
1 tsp baking soda
1 tsp salt
2 eggs, beaten
1/2 cup Greek yogurt (Bette's recipe originally calls for 1 cup of buttermilk. I do half Greek yogurt, half water.)
1/2 cup water
2 tbsp butter, melted
1. Preheat oven to 350. If using iron skillet to bake cornbread, lightly coat it with oil and place in oven to warm. Otherwise, line muffin tins (or mini muffin tins) with liners – or grease and flour them well.
2. If using polenta, grind it in spice grinder 10-15 seconds to break it down finer into cornmeal. Combine cornmeal, corn flour, sugar, baking powder, baking soda and salt in bowl. Whisk together well.
3. Whisk in beaten eggs, yogurt, water and melted butter. Batter will not be runny, but not incredibly thick either.
4. Pour into heated skillet or spoon into prepared muffin tins. Bake for about 25 minutes or until the top starts to turn a golden brown. (I would check on it after 20 minutes.)
** Bob's Red Mill has TWO different kinds of polenta. Only one is made in the dedicated gluten-free mill. Make sure to grab the right one. As a matter of fact, check the manufacturing practices of whatever corn flour you buy. Even though corn is a naturally gluten-free grain, it can often be milled on equipment shared with wheat and barley. Always got to check that CC status. I used Arrowhead Mills corn flour for this recipe. It's certified gluten-free by the GFCO.
What's your favorite quick bread? What are your favorite go-to gluten-free resources? Share with me in the comments below!