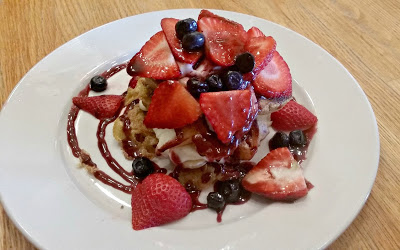 The Hudson Cafe's gluten-free Very Berry Stuffed French Toast
What's the one dish you miss now that you have Celiac Disease? For me, the hardest part of eating out is ALWAYS breakfast.  I'm sure I could convince a restaurant to cook me a fried egg in a clean pan and give me a some fruit, but as a Celiac I always miss having pancakes and French Toast. Hudson Cafe in Detroit is fixing all that.
Then someone suggests a place like The Hudson Cafe in downtown Detroit and I feel like I've hit the jackpot. This establishment opened in 2011, named for the famous Hudson store and proudly serving the legendary Hudson salad. They often have the traditional egg salad and pot pies that were once served at the store as well. I love seeing establishments embracing and honoring the past while moving towards the future. The amazing murals inside tie Detroit's past to it's future as well.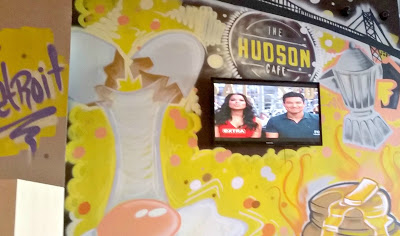 All murals inside the restaurant were completed by Antonio Agee,
The Hudson Cafe opens only for breakfast and lunch, so we scooted there quickly after scoring a private tour of the Masonic Temple. It was spring break and we were taking a weekday trip to the Big D. We arrived towards the end of their business day (they close at 3 pm) and they immediately sat us. However, if you choose to come during the Saturday rush,  you'll have a much longer wait.
Our waiter Caleb was very polite. I immediately started asking him what menu items were safe for those with Celiac Disease. The menu listed only two items under their gluten-free section, so I wanted to be sure I was dining safely. As he started to answer, a young lady behind him apologetically interrupted. Cortney explained that she was one of the cooks there, and has been there since Hudson Cafe opened. Although she was on her break, she wanted to make sure all of my questions and concerns were accurately answered.
Cortney explained that they had a separate kitchen space where they prepare their gluten-free items, and explained that they started offering gluten-free menu items after customers started asking for them. Owner and head chef Tom Teknos tasked Courtney with not only finding safe gluten-free items, but also researching how to prepare them safely as well. It was through her research that she learned about cross-contact and how to provide a safe dining experience. They have dedicated pans that they use to prepare gluten-free dishes.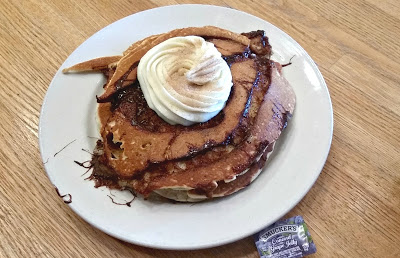 Gluten-free Cinnabun pancakes with cream cheese frosting
As this was our first visit to Hudson Cafe, we asked Caleb and Cortney what we should order. We settled on their signature Very Berry French Toast and Cinnabun Pancakes, both available gluten-free.  In addition, we also ordered a side of their homemade Corned Beef Hash. What a feast! I totally understand why MLive named it among Michigan's Best Breakfast Joints. The Cinnabun pancakes really are as big as your head, with ribbons of sweet cinnamon and topped with cream cheese frosting. Their french toast is a sight to behold. Stuffed with cream cheese and bananas and covered in fresh berries, I think I can honestly say it's the best I've ever had in my life.
Their menu has many more items than just breakfast. Order from a range of salads, burgers and sandwiches, all of which can be prepared gluten-free. These give me more than ample reasons for wanting to return again. Owner Tom Teknos also has another location in Grosse Pointe called The Jagged Fork. I'm sure eating at either location will leave with you a full belly and a smile on your face.
Hudson Cafe
1241 Woodward Avenue
Detroit MI 48226
(313) 237-1000
Hours – Monday-Friday 8 am – 3pm, Saturday & Sunday 8 am – 4 pm
Website / Facebook/ Twitter / Instagram 
* I was not compensated in any way and all of my opinions are my own.
As always, make sure to ask your server at any establishment about your needs. *
Related posts
Top 10 Restaurants to eat at in Michigan
Detroit based Banza Pasta makes this "chick" happy 
My recipe for great homemade buckwheat pancakes