Photo Credit: Julie Fox
Julie Fox, owner of Free Love Bakery, knows first-hand the difficulties about diet restrictions. She knows how we frequently miss out on social interactions, because so many of them center around sharing food.  This is why she opened her bakery, because she wants people ENJOY food with others again.
Free Love Bakery is at an exciting time in its business history. Fox took part in a Michigan Women's Foundation competition called the Dolphin Tank, and won a prize to further her business. After selling at farmer's markets and working out of a shared commercial kitchen, they are currently putting the finishing touches on their very own storefront. They will be opening the doors to the public on Thursday, March 31st!. Read more about Fox's health and gluten-free journey in her own words, below.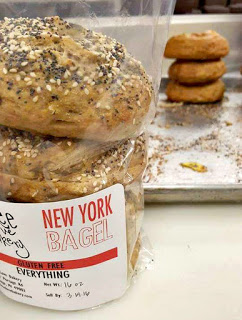 Photo Credit: Julie Fox
1. What inspired you to become a baker?  Why the focus on gluten-free?
Honestly, I don't consider myself a baker. I'm a nurse with a passion for helping people heal. I love to cook, eat, and more than anything I love that I finally feel good enough to help others feel good too.  Seven years ago I became very ill.  I underwent many tests but none of them could pinpoint what was wrong. My symptoms continued for three years without resolution. Finally I had an inclination they might be food related.  I did a three week fruit and vegetable fast as part of a spiritual practice. By the end of the first week, about 90% of my symptoms were gone.  By the end of three weeks I was off all of my prescriptions. Through this I made the gluten connection to my symptoms.  I challenged gluten at the end of the fast and all my symptoms returned.  I haven't eaten gluten since.
2. Are there other highlights of your products? Dairy-free, egg-free, nut-free etc?
We are dedicated to gluten-free baking, and offer several options that are soy, dairy, egg, and tree nut-free.  I attempt to make everything soy free, as the only soy in our products is the soy lecithin in our chocolate chips.  (We do have soy-free options for chocolate if needed).  We have LOTS of dairy free options, as that is another frequent food intolerance our customers encounter. When I convert or create a recipe, I start with the most allergen-free recipe I can do and then I start adding things back in to achieve the taste and texture I'm looking for.  We also try to use non-GMO, local and organic ingredients as much as possible.
Photo Credit: Julie Fox
3.  What steps do you take to insure your products are truly gluten-free?
Everything we make is gluten-free; there are no sources of gluten in our kitchen or ingredients.  We bake out of a very large catering kitchen that is also used by two other companies.  HOWEVER, our area of the kitchen is secluded from the other companies and is dedicated to us.  We do not share equipment, utensils or work space.  The other companies do not have airborne flours.  I am always happy to give any of my customers a tour of our facility. It is so important that our customers feel safe and confident in the food they eat.  Transparency and open communication about our production and ingredients is one of the foundations of our business.  I'm even picky about the restaurants I supply. I want to be able to insure they are taking necessary steps with my products to avoid cross-contact.
4.  Can you share a story of a customer who's been greatly impacted by your business?
Here's feedback from one local customer. (There are many more!)
"I stumbled upon Julie and Free Love Bakery when she was selling at the Kalamazoo Farmer's Market. Free Love Bakery redefined what gluten-free tasted like for me. Bread, pizza crust, bagels, cupcakes, angel food cake (my favorite), cookies, pie crusts, etc, and, it was all FRESH! There weren't dozens of chemicals added either. She had made them with love the night before! She made it all taste this good, and it's soy, nut, dairy, and egg free too! That's a whole food restriction arena I can't even imagine having to be a part of. And the fact that I can trust and know that the food has no cross-contamination possibility is a HUGE deal for me. Delicious baked goods are something I can have again, and I don't have to settle for something that's "close" enough. "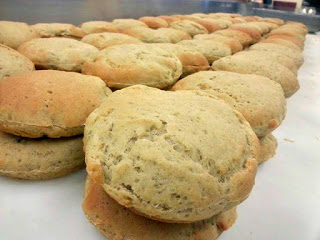 Photo Credit: Julie Fox
5.  What would you like consumers to know about products and your business?
Our goal and vision is to create delicious food that people with sensitivities can safely enjoy, but make it taste so good the everyone will want to share.  We want to bring back the social connections of food for everyone.  Our new market will offer our full baked goods menu, plus Take & Bake meals, bulk baking ingredients, and local meats.  We'll also be serving coffee, teas and drinking chocolate (you get to pick your milk alternative!).  Our market and our products are a safe haven for people with food sensitivities, as we want everyone to be Free to Love food!
Free Love Bakery products are sold wholesale to Sawall Health Foods, Natural Health Center, Earth Fare, and Hardings on Centre Rd. You can find her baked goods on the menu at Garden Griddle, London Grill, and Old Dog Tavern.
Free Love Bakery
7620 S. Westnedge
Portage MI 49002
Website / Facebook / Twitter / Instagram
Proposed business hours –
Mondays- Closed, Tuesdays 7-8, Wednesday thru Friday 7am-7pm, Saturdays 9-5, Sunday 10-3
Cooking classes offered Tuesdays 6pm-8pm and Sundays 4pm-6pm
(269) 271- 4113
Free Love Bakery is one of many great, dedicated gluten-free bakeries across the state of Michigan. Make sure to follow along with my #MichigansBestGF Bakery Search and learn about over 20 gluten-free bakers in Michigan. Click this link for a comprehensive list of all the gluten-free bakers in Michigan, complete with interactive map so you can visit them all personall! Follow me on Facebook, Twitter, Instagram and Periscope for pictures and live videos too!