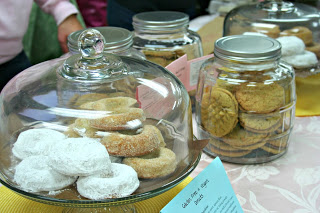 Gluten-Free, soy-free, peanut-free donuts and cookies!
Photo Credit: Sydney Kippen
I've known Angie Brown, creator of Gluten Free Goodies By Brown, for a few years. I first met her at the Lansing Gluten Free Fair, as we have the finest selection of Michigan's gluten-free bakers. She's always been a big supporter of our event, as well as a faithful supporter of the Gluten-Free Kids Camp organized by the Michigan Capital Celiac Support Group. This yearly camp is held at YMCA Camp Manitou-Lin. Her gluten-free coffee cake is always a huge hit that week!
Read more about Angie Brown's business and purpose in her words, below.
1. What inspired you to become a baker? Why the focus on gluten-free?
My son Cooper was diagnosed with multiple food allergies. It became my mission within that first year to bake him one delicious cake. I worked for three years, experimenting and perfecting my gluten-free recipes. Over time I changed over all of our family recipes to be totally gluten-free.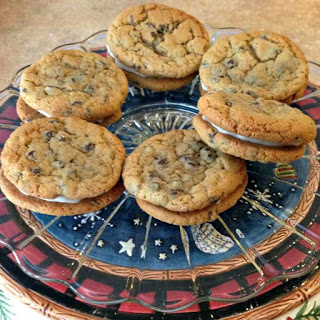 Cooper's Chocolate Chip Creme Pies are always a huge hit!
Photo Credit: Angie Brown
2. Are there other highlights of your products?  Dairy-free, egg-free, nut-free etc?
All Gluten Free Goodies By Brown products are gluten-free, soy-free and peanut-free. I also make several items that are dairy-free and can make vegan items as well. We try to accommodate as many allergies as possible, because we know just how hard it can be. Most of our products are organic as well, and we use local ingredients as much as possible.
3. What steps do you take to insure that your products are truly gluten-free?
All Gluten Free Goodies By Brown baked goods are made in a dedicated gluten-free space in my own home.
4. Can you share a story of a customer who has been greatly impacted by your business?
One of the best relationships I've built is with Cindy Gordon, creator of the blog VegetarianMamma. We met one year when she was a cookbook author at the Lansing Gluten Free Fair. You can read about her experience with Gluten Free Goodies By Brown products on her blog.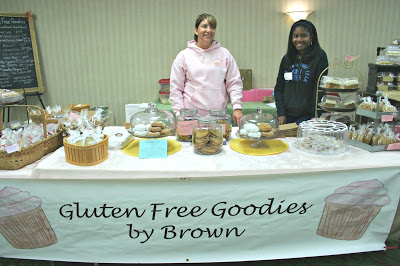 Angie Brown and a volunteer, meeting with Lansing Gluten Free Fair attendees
Photo Credit: Sydney Kippen
5. What would you like consumers to know about your products and your business?
Gluten Free Goodies By Brown is a small family business and we couldn't pull it off without the help of my husband, my family and our friends. In the summer months you'll often see Cooper helping out at the booth! We are loyal to our customers, as they've been loyal to us. It's our mission to change the world for people with food allergies…one cupcake at a time!
Gluten Free Goodies By Brown
Fowlerville
Hours Vary
(734) 612 – 7392
You can find Angie and her creations at the Meridian Farmers Market & a small selection of her baked goods at WOW in Okemos. **Please note that WOW also makes their own baked goods. Make sure you look for Angie's pink logo to when purchasing her products.**
Gluten Free Goodies By Brown is one of many great, dedicated gluten-free bakeries across the state of Michigan. Make sure to follow along with my #MichigansBestGF Bakery Search and learn about over 20 gluten-free bakers in Michigan. Click this link to see a comprehensive list of all the bakeries, as well as an interactive map! Follow me on Facebook, Twitter, Instagram and Periscope for pictures and live videos too!