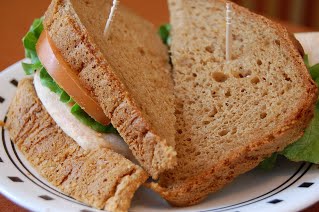 Hawk Hollow Simply Free
 has been a fixture in the Lansing area for a long time. Todd Smith has been serving the needs of those with Celiac Disease for almost a decade. I first met Todd as a vendor at the
Lansing Gluten Free Fair
. I remember the first time I tried his gluten-free waffles. They were beyond amazing.
Todd's business goes beyond just making gluten-free baked goods. He's the head chef at
Hawk Hollow Golf Course
, which NEVER uses gluten containing flours! Can you imagine having a wedding reception at a facility where particles of wheat are never floating in the air?! I've enjoyed multiple gluten-free banquets prepared by Todd. Here's more about his baked good line, Hawk Hollow Simply Free, in his own words.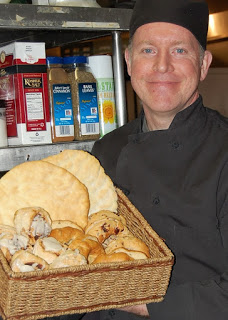 Photo Credit: Theresa Smith
1 What​ inspired you to become a ​b​aker​?​ Why the focus on gluten-free?
I've worked in the restaurant and banquet industry for over 20 years. But stomach problems had always plagued me since I was 9 years old. In 2001 I was diagnosed with Celiac Disease and realized that all my problems were due to gluten. I also have sensitivities to soy, corn, potato and dairy. Therefore, I set out to develop my own line of gluten-free baked goods that met my needs and the needs of others.. Since 2007 I've accepted that challenge to make good gluten-free items, so that I may help others with food issues.
2. Are there other highlights of your products? Dairy-free, egg-free, nut-free etc?
All my gluten-free products are soy-free, nut-free, and preservative-free. Many of my products are dairy-free as well.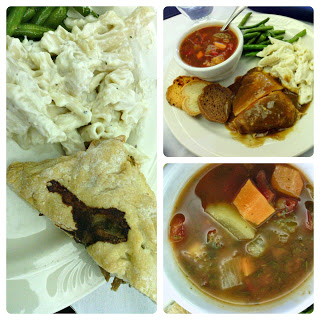 Photo Credit: Margaret Clegg
3. What steps do you take to insure that your products are truly gluten-free?
No gluten flour of any kind is used at Hawk Hollow Banquet Facility. We only use gluten-free flours for everything that we make. All my soups, gravies, cream sauces, deli meat, hot dogs, homemade meatballs and breaded chicken are made gluten-free with my products. In addition, the kitchen at Hawk Hollow has dedicated mixers, ovens, bowls, counter tops, dry storage, coolers, and freezer shelves. My staff has been trained about working with gluten-free products, and cross-contact. (We do have pasta, crackers and buns that contain gluten.)
We have a lot of products that we serve to the regular customers that are gluten-free and they never notice the difference. Hawk Hollow Simply Free Baked Creation products have also been certified gluten-free by a local Michigan lab *
4. Do you have customers feedback about how your products have positively impacted them?
Customers at Mancino's in Grand Ledge would call back to the shop to make sure that they received the right pizza crust. They couldn't believe that the gluten-free pizza crust tastes and looks like a regular non gluten-free crust.  I have a woman that orders once a month at the Lansing City Market. She orders waffles and bread because she has so many food issues, and the only gluten-free items that she can eat safely without any problems are my gluten-free products.
**Mancino's in Grand Ledge is the only location that carries Hawk Hollow products.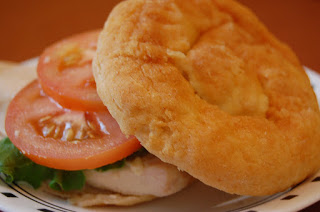 Photo Credit: Theresa Smith
5. What would you like consumers to know about your products and your business?
I've worked really hard to develop the best gluten-free products, with the best taste and texture. My products don't feel or taste like any other gluten-free items that you can find in the store. All my products are enjoyed best warmed in the oven, microwave or the toaster.
Hawk Hollow Simply Free
15101 Chandler Road
Bath, MI 48808
517-641-4295, ext. 21
Hawk Hollow Simply Free doesn't have a store front but customers can pre-order products and pick them up at Hawk Hollow Banquet Center. Pick-up hours are Monday-Thursday, 9 am – 3 pm and Friday 3-8 pm in from October to April. From May to September, pick up times on Monday – Friday are extended until 6 pm. Some Saturday hours are available. Todd sells his pizza crusts to Mancino's in Grand Ledge as well.
It has been such a joy writing the #MichigansBestGF bakery series. Make sure to check our rest of the dedicated gluten-free bakers on the list! Make sure to follow along with my #MichigansBestGF Bakery Search and learn about the over 20 gluten-free bakers in Michigan. Click this link to see a complete statewide list of bakers as well as an interactive map to find them. Follow me on Facebook, Twitter, Instagram and Periscope for pictures and live videos too!  Is there anyone I'm leaving out? Let me know!