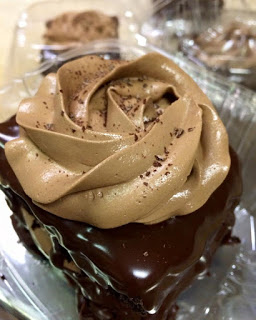 Mary was voted best chocolate cake in Mid-Miichigan by WNEM 5
Photo Credit: Mary Brooks
If I could use one word to describe Mary Brooks, the owner of Viola Fe's Bake Shoppe, it would be "fun." I met Mary a few years ago to
write about
her new baking endeavor. Since then she's become a trusted friend that always leaves me chuckling. She has a great, subtle sense of humor, evidenced in her
"how to" video
on releasing the bowl from your KitchenAid mixer when it's stuck. She's also a talented singer and guitar player. Her baking is an off-shoot of her free spirit as well. Read more about what brings her joy, in her own words.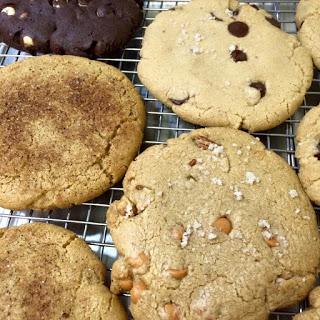 Photo Credit: Mary Brooks
1. What​ inspired you to become a gluten-free ​b​aker​?​
I began experimenting with gluten-free recipes to help out my grown daughter. After experiencing swollen joints, stomach cramps and low energy, her doctor instructed her to omit gluten. To be supportive, I also went gluten-free. Amazingly, after years of dietary issues and rashes, I suddenly felt better. I knew if we were going to stick with the change in diet, we had better come up with something tasty. It's all been trail and error.
2. Are there other highlights of your products? Dairy-free? Egg-free? Peanut-Free, etc?
Here at Viola Fe's Bake Shoppe, I can make substitutions for those that may not tolerate Certified GF Oat flour, Quinoa and any other gluten-free flour. Dairy may also be substituted with Hemp milk, Coconut, Rice or Almond milk. I'm pretty flexible on changes. I make also make gluten-free vegan baked goods. I sell mostly wholesale but I can fit in personal orders if given plenty of advance notice. I bake third shift, so leaving me a message on Facebook is the best way to contact me.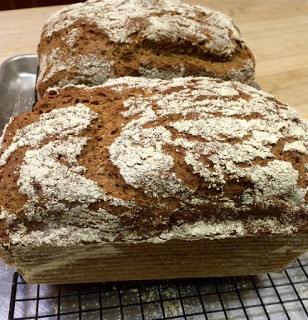 Viola Fe's Bake Shoppe Gluten-Free Sandwich Bread

Photo Credit: Mary Brooks
3. What steps do you take to insure that your products are truly gluten-free?
When ordering ingredients I purchase only gluten-free certified. I order flours from different sources like: Authentic Foods, Bob's Red Mill, and Nuts.com. They are all labeled "Certified Gluten-Free." I also combine many different flours together to enhance flavors and make them interesting.
4. Do you have any stories of customers who reported to you how important your products have been in their life?
It's great to hear from Viola Fe's Bake Shoppe customers on Facebook. There was a lady that said she hadn't had a birthday cake in 5 years. She and her family were overjoyed and the cake was a hit at the party. I have many gluten eating folks consuming my bakes. They say they prefer mine over those that contain gluten.
Frank, a managing partner of Zingerman's, also taste tested several of my bakes. He said that it was obvious that I spent a lot of study and time on my products. He was impressed with the aroma, the chew and the lingering flavors. Frank also said there was not one weak product in my line-up.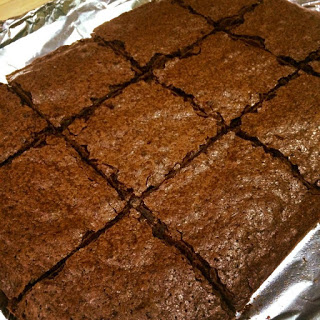 When they say chocolate is better than sex, they're talking about these brownies
Photo Credit: Mary Brooks
5. What would you like consumers to know about Viola Fe's Bake Shoppe?
Prior to opening my business, I'd only been baking with the Crust for 8 months. I had no professional training and am a self-taught baker.  I didn't bake as a child or even that much as an adult. One day something just clicked and this whole journey just felt "natural." Even when I quit The Crust to do this, it felt like I was supposed to do this gluten-free baking thing.
Her baking really is a gift, not just in availability, but in taste. She currently bakes out of a commercial kitchen at St. Jude Episcopal church in Fenton. She holds the food license to the kitchen, and she is the only baker that uses it. All of her items are stored in closed bins out of precaution should there be something brought in that contains gluten. As her business continues to grow, she also hopes to open a store front with a cafe. She also hopes to expand her vegan options.
Her products are sold at Simply Fresh in Brighton, and Table and Tap in Flint. Contact her through Facebook to place a special order.
Make sure to follow along with my #MichigansBestGF Bakery Search and learn about the over 20 gluten-free bakers in Michigan. Click this link for a complete statewide list and interactive map! Follow me on Facebook, Twitter, Instagram and Periscope for pictures and live videos too!