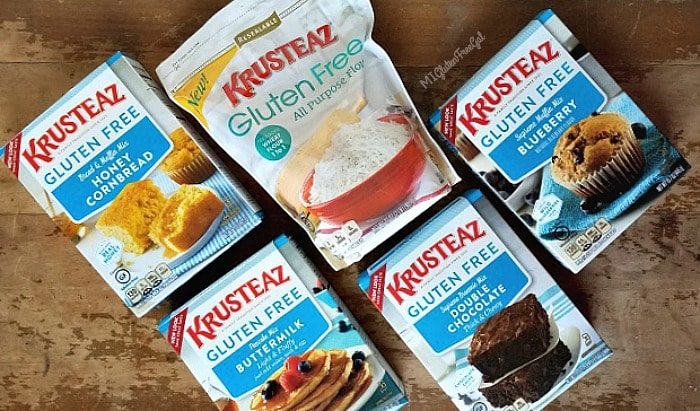 I was first introduced to the Krusteaz gluten-free line of products at Sam's in 2015. They had huge packages of their flour and brownie mixes for an incredibly reduced price. Like only $7  fora  5 lb bag of the Krusteaz Gluten-Free All Purpose Flour. Crazy cheap, right?! The prices were so great in fact, that I considered becoming a Sam's Club member
Then, they discontinued the products. Glad I didn't spend the money on the membership.
Through that first introduction with the Krusteaz gluten-free line, my curiosity was definitely piqued. I really liked their recipe for pancakes on their bag. I remember being hesistant because it called for so much baking powder, but they were fantastic. Light and fluffy and not gritty.  As a purported "cup for cup" replacement for wheat flour, they worked great in "regular" dairy-free muffin recipe. They were incredibly moist and delicious.
Fast forward to 2017 and I've been busy learning more about these Krusteaz gluten-free products.
Krusteaz Gluten-Free Blueberry Muffin Mix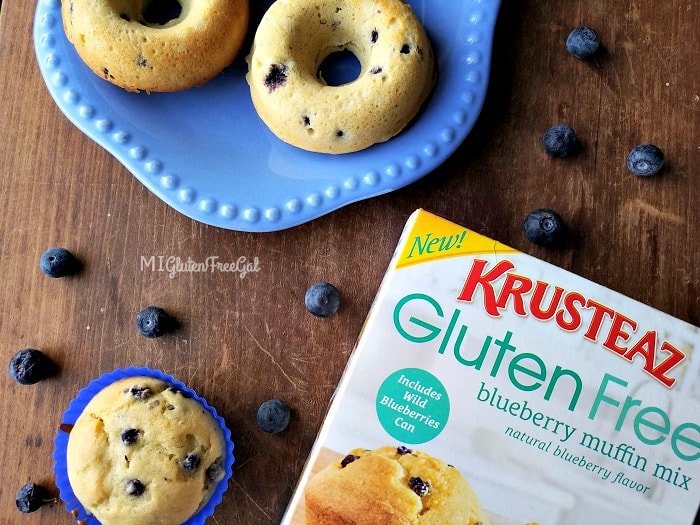 While this Krusteax Gluten-Free Blueberry Muffin Mix makes great muffins, they make even MORE delicious blueberry donuts. That's right, you can whip up this batter and bake them in a donut pan. (Similar to my two ingredient
pumpkin donuts
!) Don't have a donut pan? I highly suggest whipping up a batch of these and cooking them in your waffle maker. No substitutions or additions to the batter needed! Because who wouldn't love a batch of blueberry muffins in the morning?!
Krusteaz Gluten-Free Double Chocolate Brownie Mix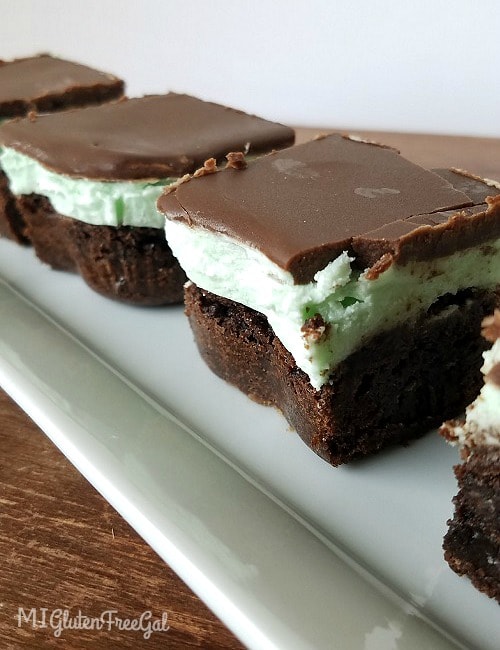 To be honest, when I first reviewed this brownie mix in '15, I wasn't a huge fan. Then I tried them in my recipe for Gluten-Free Triple Mint Brownies and I fell IN LOVE. Seriously, these are one of the best mixes I've tried. Maybe they updated the recipe in the past few years, but these are the perfect brownie base for anything. They'd be epic in this Brownie Fruit Pizza like this one from VegetarianMamma. Or maybe as the base for these Buckeye Brownies from My Gluten-Free Kitchen. Because chocolate + peanut butter = perfection.
(Also – for a smaller batch of healthier brownies, check out my gluten-free chickpea flour brownies!)
Krusteaz Gluten-Free Buttermilk Pancake Mix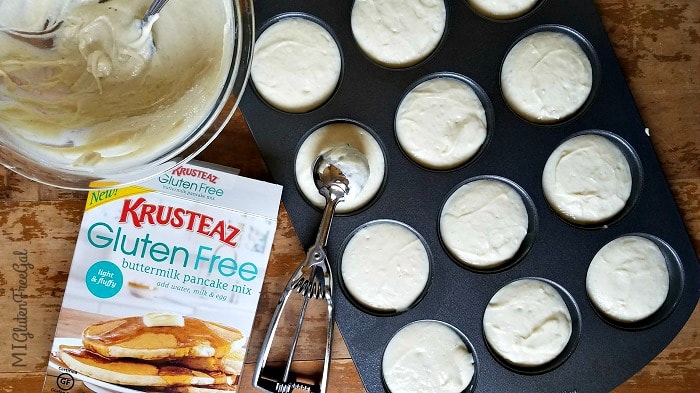 Even though I enjoy the "from scratch" pancake recipe on the bag of Krusteaz's all purpose flour, this pancake mix is truly awesome. I used them to make the most amazing and super simple gluten-free breakfast sandwich. Make the batter (which I made with yogurt), bake it in an a whoopie pie pan, and you have the cutest "biscuits" ever. You can even bake your eggs in the same pan so your eggs are the same size as your bread.
Krusteaz Gluten-Free All Purpose Flour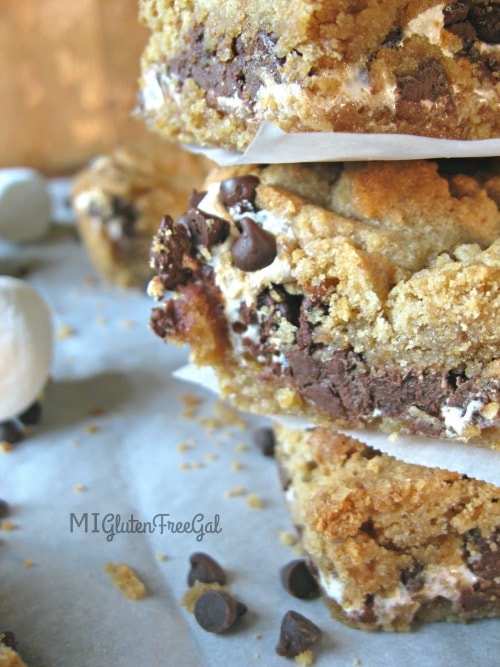 I've used this flour to make all sorts of things. gluten-free banana cinnamon chip muffins, blueberry zucchini bread andan adorable gluten-free mason jar cake.. However, these gluten-free S'mores bars may be my absolute favorite. Filled with Enjoy Life chocolate chips and marshmallow fluff, mixed with crushed homemade graham crackers, these are truly the most decadent dessert I've ever made. They are a bit labor intensive, but they are worth all the effort. Truly, even your non gluten-free friends will be asking for seconds and thirds.
Krusteaz Gluten-Free Honey Cornbread Mix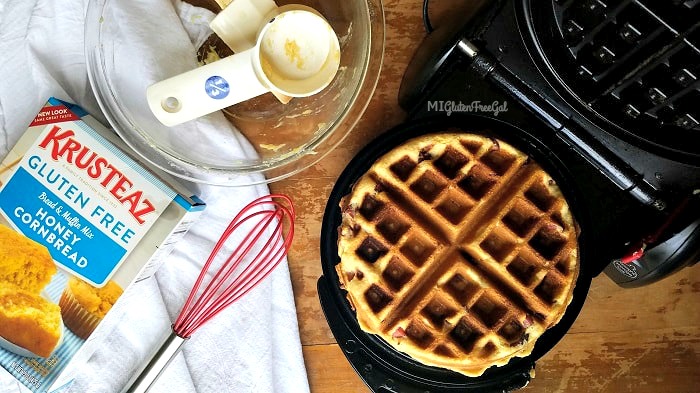 As a faithful reader, you know that I love cornbread. I've shared my favorite recipe from Bette Hagman as well as one using Bob's Red Mill Polenta. Homemade cornbread isn't hard. However, a handy dandy cornbread mix can make life SO much easier. May absolute favorite way to make a mix like this is in my waffle maker. (Then again, I love to make as many things possible in my waffle maker!) Want to make this cornbread mix truly epic? Turn them into gluten-free corn dog waffles! Seriously, add cooked and chopped hot dogs to the batter and you have a super simple and fun item to add to any kid's lunch. (Or your husband who is a kid at heart!)
So hopefully I've showed you that the Krusteaz gluten-free products line up is versatile and easy. Why? Because life is busy and hectic and I celebrate anything that makes living with Celiac Disease a little bit easier. You can find these items at many grocery stores. I find them most often at my local Kroger store. Leave me a note below giving me your input of these mixes, or anything else that helps make this journey easier!
This post was sponsored by Krusteaz through donation of their products. I was not otherwise paid or compensated and all thoughts and opinions are my own.
Updated September 2017