I'm a gluten-free cornbread fanatic. Seriously, is there ever a wrong time for cornbread? Great with chili, fantastic for breakfast with warm milk and honey, or just shove it in.ma.mouth. While most people use corn meal, I choose to make mine with ground Bob's Mill polenta. Why? Because I have a lot more faith in Bob's Red Mill processing procedures than most other companies that make non-gf items. That, and it just makes me sound fancy.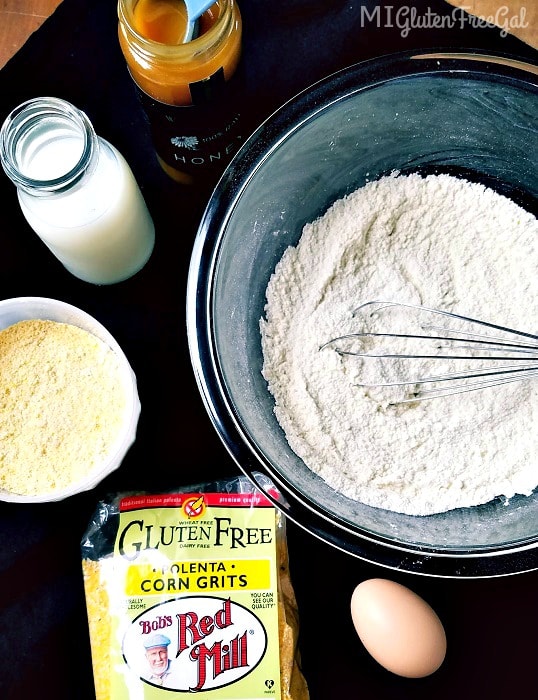 Since being diagnosed with Celiac Disease over a decade ago, Bob's Red Mill products have been a staple in my house. They understand that providing a gluten-free product means taking every precaution to prevent cross-contamination. All of their products produced in their dedicated gluten free-facility have a special gluten-free logo. Therefore, you know you can consume it safely. To make my gluten-free cornbread, I simply break out my handy dandy coffee grinder (that I never use for coffee) and set it to a fine grind. Next thing you know, you have cornmeal. Voila.
My recipe for this gluten-free cornbread isn't really mine, per se. As most gluten-free foodies do, I found a recipe for cornbread and then substituted gluten-free grains for the flours listed. The original recipe was in an old paperback Betty Crocker cookbook, ragged and dog eared from many years of use. It once graced the shelves of the Sand Lake library, where my husband's grandmother was the main librarian. (At one point the library was in her front parlor. So instead of the one cup of regular flour it called for, I substituted a blend of  1/3 cup Bob's Red Mill Chickpea flour, 1/3 cup of Bob's Red Mill Brown Rice flour and 1/3 cup of Ener-G Potato Starch Flour.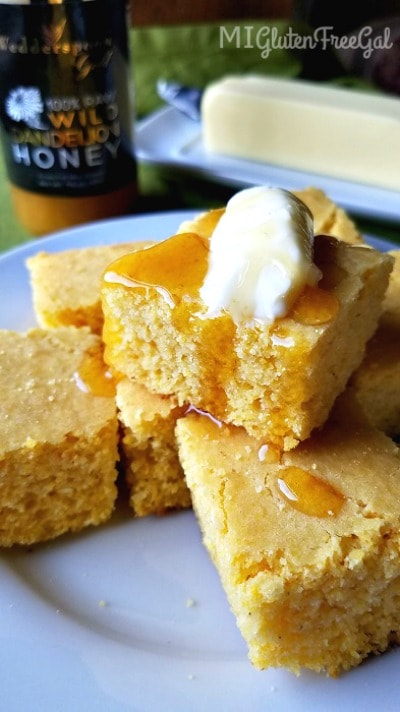 At least, that's what I originally did when I made this gluten-free cornbread recipe in 2014. Now it's 2017. I changed that potato starch flour to corn starch. You know what happened? Not quite as fluffy. Which surprised me, because chickpea flour + cornstarch made are the basis of my super fluffy brownies. Maybe it's because I swapped out the sugar for honey. Read these guidelines from The Kitchn if you're gonna do that.) Maybe it's because I used soured milk instead of fresh milk. Or maybe it's because I toasted the polenta first before I ground it. Who knows. So, if you follow my recipe below, it may not be super fluffy, but it still tastes great! I highly suggest topping it with a dab of butter and a drizzle of warmed Wedderspoon's 100% Raw Wild Dandelion Honey.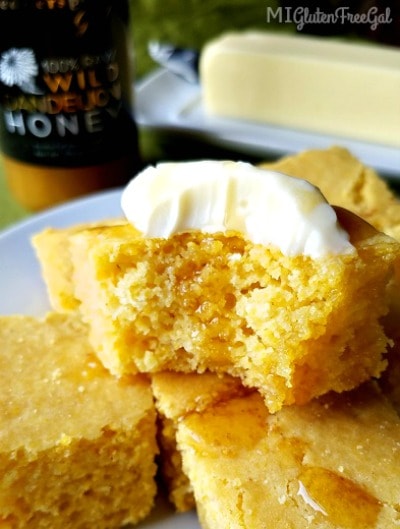 Gluten-Free Cornbread recipe
(adapted from Betty Crocker)
1 cup Bob's Red Mill gluten free Corn Polenta, ground fine into cornmeal
1/3 cup Bob's Red Mill Garbanzo bean flour
1/3 cup Bob's Red Mill gluten free Brown Rice Flour
1/3 cup corn starch (Ener-G Potato Starch Flour can be substituted as well)
1 tbsp honey
4 tsp. baking powder (I use Clabber Girl, as it is marked gluten free)
1/2 tsp. salt
1 cup milk
1/4 softened butter
1 egg
Heat oven to 400 degrees. Grease square pan. Blend all ingredients for 20 seconds. Beat vigorously for one minute. Pour into pan. Bake 20 to 25 minutes or until golden brown.
So, what's your favorite cornbread recipe? Do you have a favorite recipe that you like to use honey for instead of sugar? Please share, as I'm trying to make more healthy swaps!