We've been busy in the kitchen with our Maseca flour, and it's time to share the love.
Tortillas-
My husband has perfected his tortilla making skills. After a first pressing of the tortilla, he uses his fingers to massage the center of the dough and thin it out even more. He then presses them again, and the tortillas are nice and thin and go to the edge of the tortilla press. The original directions on the Maseca bag suggested that one use wax paper to prevent the tortillas from sticking to the press. Sometimes I wonder if words get mixed up in translation, because we have found that using plastic cling wrap is so much better and makes the process quick and smooth.
With these tortillas, I don't think I ever want to purchase store-bought, premade tortillas again. Seriously. Easy, clean, and guaranteed to be gluten free because they're being made in MY house.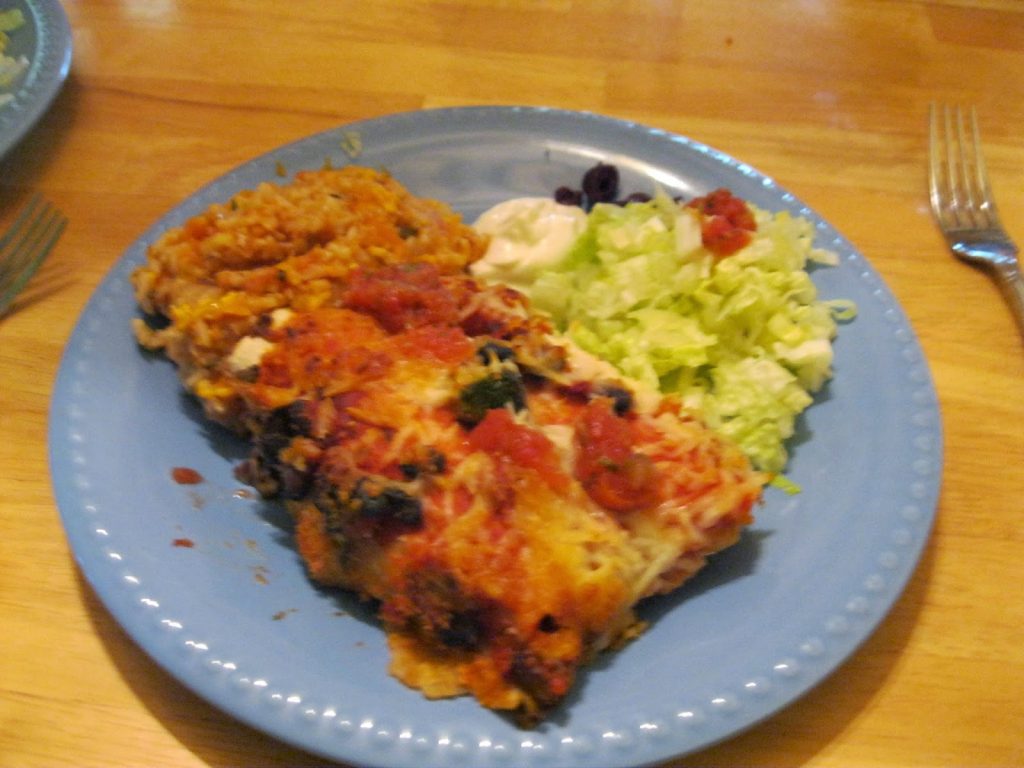 Black Bean Enchiladas –
More than once now my husband has made the most delicious enchiladas with our homemade tortillas. We can't seem to remember if he followed a recipe the first time he made these black bean enchiladas or if they were just created by his imagination.Stuffed with black beans, corn, tomatoes and cheese, this is a restaurant style delicacy. To take it over the top, we add a dollop of Greek yogurt (we no longer use sour cream in our house) and a dollop of homemade guacamole.
Mexican Lasagna –
This recipe from Maseca really intrigued me. I'm used to using tortillas to make a Mexican lasagna, not a dough. However, I have to say this is definitely one of my new favorite dishes. With layers of ground beef and a mixture of cottage and mozzarella cheeses, it is a ooey gooey savory mouthful of YUM!
To make the dough layers even, I separated the dough in half, rolled it out in the bottom of my greased baking dish, then inverted the dish and flipped  the layer onto a plate.
Next time I make this I want to carefully try to roll it our in a 9×13 dish instead of a 9×9.  The dough layers in the pan were a little thick in comparison to the filling. But either way this is a dish that is sure to please!