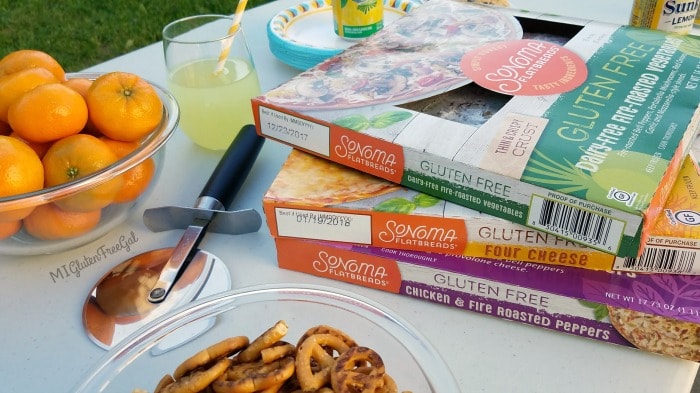 If you've been following my blog for a while, you know that I like pizza. And I write about it. A LOT. While at the Chicago Gluten and Allergen Free Expo in 2014, I met a (then) NEW-to-me pizza company. Yeah pizza! Out of the many pizza companies that were there, Sonoma Flatbreads gluten-free pizzas were my non-gf husband's FAVORITE. Since then I've eaten their pizza more times than I can count. They're great for a pizza party or for those nights when you REALLY don't want to cook.
Why do I love Sonoma Flatbreads? Let me count the ways. The first thing I noticed was the sauce. It has the perfect ratio of sauce to crust, and it wasn't overly spicy and it was a perfect compliment to the toppings. I love the crust too. Did I mention Sonoma Flatbreads gluten-free pizza uses Udi's crusts?! It's light and buttery. It's so good I could eat it on its own as a cheese bread. That's saying something, because I don't usually enjoy thin crust pizza.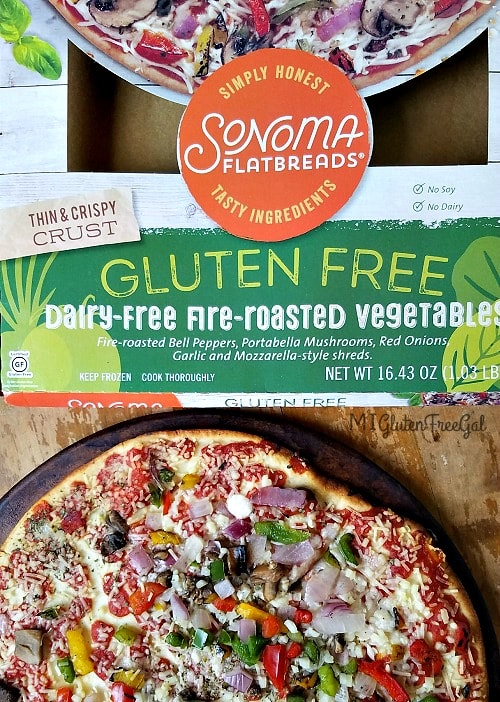 There's another reason to sing Sonoma Flatbreads' praises. In 2-16 they launched a dairy-free pizza. That's right, those with dairy allergies can now enjoy a gluten-free frozen pizza! I love that it's loaded with lots of fire roasted vegetables. Dairy-free + vegetables + ready in 10 minutes = perfect dinner. Plus, if you have enough restraint to not eat all of this in one sitting, it tastes delicious cold the next morning.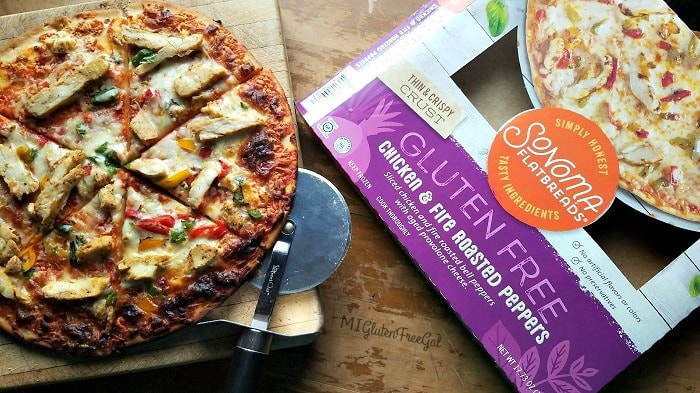 Sonoma Flatbreads is a division of Donato's, which is a pizza chain based in Columbus. I shared this Chicken & Fire Roasted Vegetable pizza with friends who had just moved from Ohio. They loved every bite and said that Donato's is definitely something they missed since moving to Michigan. I'm so glad that I was able to give them a taste of home!
Here in Michigan, you can find these GFCO certified gluten-free pizzas at your local Meijer store. You can also find Sonoma Flatbreads gluten-free pizzas in other stores like Giant Eagle and Kroger if you live in the Columbus area. You can click this link to find them in a store near you. Even more exciting, you can use the same site to have them shipped DIRECTLY TO YOUR DOOR! Pizza for everyone!
Have you tried Sonoma Flatbreads? What are your favorite pizza toppings? Leave me a note below!
While I was given product for free, I was not otherwise compensated for my post. All thoughts and opinions are my own.