This post involves more than just a gluten-free pumpkin muffin recipe. It reminds us the impact we have on the lives of others when we intentionally try to meet there needs. It ends up blessing us both, combining our stories together in a beautiful swirl.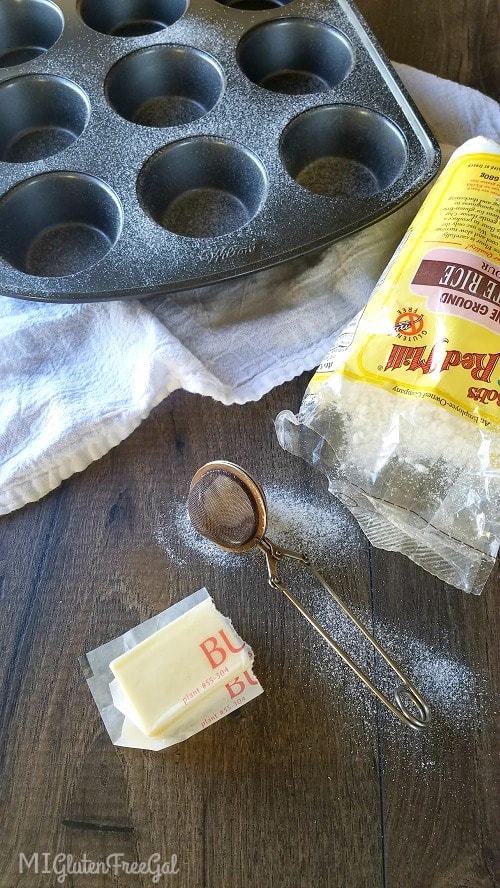 I learned a few things about gluten free baking Saturday night. Well, not this past Saturday night. It was a fall day in 2013 when I first wrote this post. But regardless of a new recipe and better pictures, the lessons learned still apply.
1) If you're going on a gluten free baking adventure, put away the clean dishes first. Otherwise, you may end up spilling flour everywhere, coating your newly cleaned dishes in a fine dusting of gluten-free grains.
2) Tea balls make a great small sifter for flouring muffin cups. I may never use it to make tea again. (See picture above.)
3) Intentionally baking for others, regardless of the food allergy, is a very real expression of love!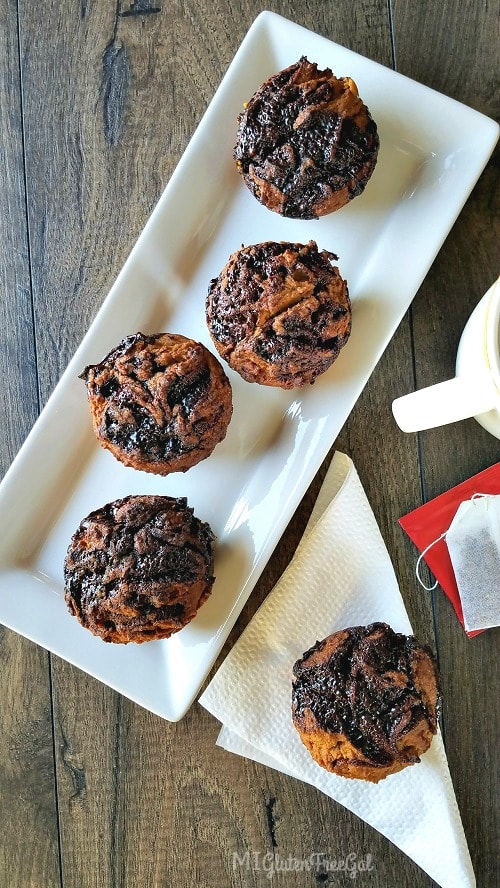 Back in 2013, I was a relatively new blogger. At that point, I penned less than a year's worth of posts. Instagram and SnapChat didn't exist yet, and I had yet to tweet, and didn't even have a Facebook page for my blog. So four years ago when someone recognized my blog name at the point, it gave me goosebumps. If I'm honest, whenever anyone is excited to meet me, I still feel a bit surprised. So if we meet in person and want to really surprise me, tell me you read this post about a pumpkin muffin recipe.
The story begins with a lunch for visitors. Consultants really. Good people, not like the consultants from Office Space that just want to downsize your business. There were consultants wanting to help a church thrive to meet the needs of our community. Since I like to feed everybody and their brother, our pastor asked if I could help arrange lunch for the group. Sure, no problem.To support a local new business, we chose to order pizza. I thought about asking him if there were any food allergies, but I failed to follow through. Which is weird for me, because I always ask.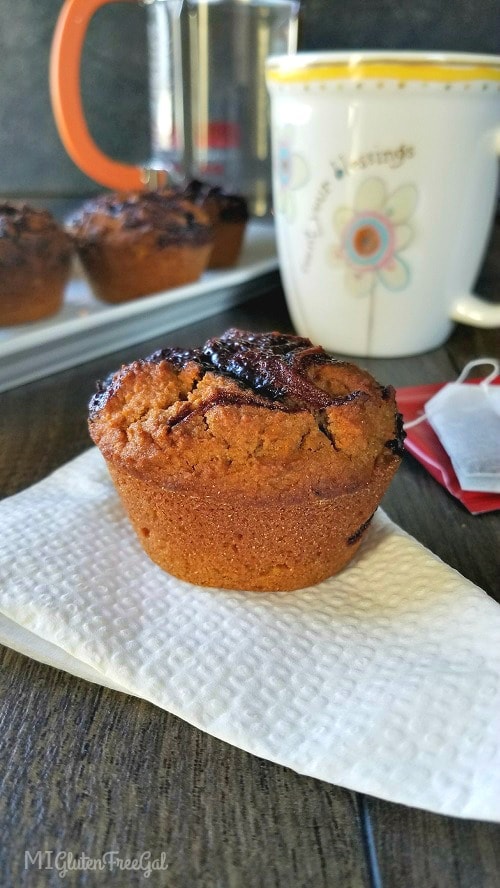 You can see where this is heading right? Sure enough, one of the consultants was gluten intolerant. I felt heartbroken. Then when she was super excited because she already followed my blog. I was crushed. After all, I know what it is like to travel and not have gluten free food. A small sense of panic can set in, not to mention the sense of being left out. Usually we learn to travel with food, but she wasn't traveling solo and staying all weekend in a town she was unfamiliar with.
And I served a fellow person needing to follow a gluten-free diet regular pizza. Major face palm.
So the next morning I hustled to make a pumpkin muffin recipe just for her. I mean, after making her feel left out the night before, it was the least I could do? Right? She graciously accepted and thanked me over and over for trying to make her feel welcome.
Some people may think I'm silly for going to all this trouble, making a last minute pumpkin muffin recipe for a lady I may never see again. However, it truly is an honor. I think back on all of the friends and family who have taken extra care due to my celiac disease. My husband was the first- bringing me gluten free flours (and flowers) while we were dating. Dead serious. He's been my biggest cheerleader ever since, even eating gluten-free in our home to keep me safe.
My friend Becky was one of the first people I knew who purposely stocked gluten free salad dressings and other condiments, on the off chance that we may come over for dinner. I can't even begin to tell you how loved that made me feel, and I'm not sure I've ever told her as much. My (now former) neighbor brought me a tub of the new Pillsbury gluten free cookie dough for my birthday. Not an expensive present, but it was an intentional act of love, trying to meet my needs. For that reason (and literally hundreds more) we helped them move 800+ miles to a new home. She definitely worth a last minute pumpkin muffin.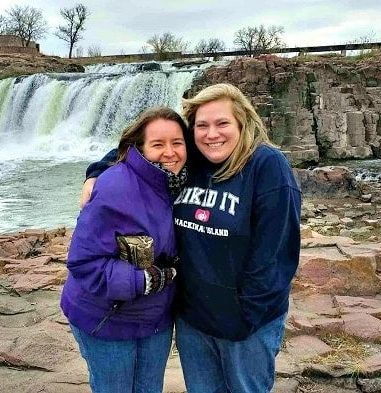 There are dozens more I could mention who have gone out of their way to meet my needs. People like Marie Catrib, sadly departed, who started baking gluten-free at her restaurant. Why? Simply because she had patrons who asked. She didn't have any background in gluten-free baking, but did not want her customers to be left out. Marie was a great lady, someone you wish was your grandmother. While you waited in line, she would ply you with samples, eager to hear your feedback. She would check on your table to see if everything was okay, and was a pushover for any small child. If she had a gluten-free pumpkin muffin at her restaurant, you can guarantee it would have been the best you ever tasted.
So many times, we as celiacs don't say anything about our dietary needs. We say we don't want to be a bother. Maybe a meal has failed us and we (literally) don't want to go through the pain again. However, sometimes when we don't speak up, we take away the joy from someone else who wants to make us feel loved. We all deserve to feel loved. Respected. Important. So if someone can do it safely, let them do it. In return, if you can go out of your way to make someone else's day, do it. You won't regret it.
Back to the Pumpkin Muffin Recipe
When I first wrote this back in 2013, I didn't save my pumpkin muffin recipe. I think I created it from a Betty Crocker recipe, throwing in random leftover flours I had left. While resourceful, it doesn't help if  you want to recreate this pumpkin muffin recipe for yourself. I mean, there are loads of great pumpkin muffin recipes out there. Some are free of eggs and dairy like these gluten free vegan pumpkin spice muffins from Sarah Bakes Gluten Free. Some are loaded with cream cheese like these Healthy Pumpkin Cream Cheese Muffins from Veggie Balance. I chose to play with a recipe from one of my new favorite (non-gluten-free) blogs, Dessert for Two. I switched out the flour she calls for in her Pumpkin Nutella Muffins with a blend of banana flour and rice flour. (Because in true form, I had a bit of banana flour leftover and didn't want to throw it out. Creature of habit.)
I also wrote this recipe with a blend of brown sugar and white sugar. Truth be told, I'm writing this all up a few weeks after making them. I'm not totally sure if I switched up the sugar, but it TOTALLY sounds like something I would do. All the other change in my pumpkin muffin recipe versus Christine's, such as using pumpkin pie spice instead of just cinnamon, I distinctly remember. Since her recipe only calls for a 1/3 cup of pumpkin, that allows you to make other pumpkin goodies, like my egg-free gluten-free pumpkin chai snickerdoodles. Your egg intolerant friends will totally love you for it.
So there you have it. A pumpkin muffin recipe that uses banana flour, and the bits and ends of what I have around. Sometimes the bits and pieces we have, however small, are more than enough to make a difference.
Ingredients
1/3 c pumpkin puree
1/2 c brown sugar
1/4 c white sugar
1 large egg
1/4 c canola oil (Christine uses melted coconut oil)
1/2 c banana flour
1/4 c rice flour
1 tsp pumpkin pie spice
1/2 tsp baking powder
1/4 tsp salt
1/4 cup chocolate spread
Instructions
Grease 6 muffin tin wells with butter and coat lightly with rice flour. I like using a tea ball to do the dusting. It helps control the coverage and helps you get deep into the wells. If you would like to skip this step, you can use cupcake liners. Christine does.
In a medium bowl, whisk together the pumpkin, brown sugar, white sugar, egg, and canola oil or melted coconut oil. (I imagine melted butter could work too.)
In a small bowl, combine banana flour, rice flour, spice, baking powder and salt. Whisk well to make sure all ingredients are mixed together. A sifter may even come in handy for this.
Add dry ingredients to wet, and blend together until all of the flour mixture is incorporated. Banana flour absorbs lots of moisture, so I feel that it benefits from resting for 15 minutes. If the batter seems incredibly thick, you can add one tsp of water at a time to achieve usual muffin batter thickness.
Preheat oven to 350 degrees.
Fill the muffin wells with a small scoop of pumpkin batter. I used a one oz Pampered Chef scoop, and then tamped the batter down by giving my muffin tin a few "gentle" whacks on the counter to level the batter.
On top of the batter, add approximately one teaspoon chocolate spread. ( I used Lekkco.) Fill wells with remaining batter, and gently tap the muffin tin again to level the batter.
Finally add a touch of chocolate spread on top, and swirl into the pumpkin muffin batter.
Bake at 350 degrees for 25 minutes. Allow to cool before serving.
7.6.7
24
http://miglutenfreegal.com/2013/10/06/pumpkin-muffin-love/
When has someone gone out of their way to meet your food allergy needs? How did it make you feel? When you have taken an intentional step to make sure the needs of others were met?