One thing I love to be able to do through this blog is to promote Michigan Made products. After all, I am a Michigan Made gal myself. Among Friends continues to win many awards and find their way into large stores. Meijer, Fresh Thyme and many more stores proudly display these mixes on their shelves. So exciting to see that two Ann Arbor gals are making such a huge impact!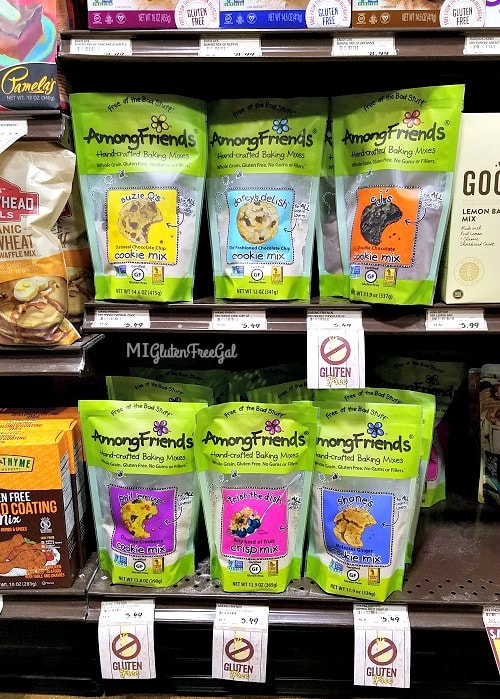 Among Friends is the brain child of Suzie Miller and Lizann Anderson. The hallmark of their products is the inclusion of whole grains. Each mix bears the whole grains logo, proudly proclaiming the amount of whole grains you will find within.  Eleven of their twelve mixes feature gluten-free oat flour. (Their new cornbread mix does not contain oats.) Among Friends Baking Mixes have branched out since their first emphasis on cookies. Now they also make a chocolate cake mix, a pancake mix, a brownie mix and more!
I was first introduce to Among Friends Baking Mixes in 2o13 when Suzie was generous enough to send some to share with our support group. Between then and now I've learned a thing or two about taking better pictures! Therefore I wanted to show off some of their cookie mixes in a better light, pun intended! Below is Shane's Molasses Ginger Cooke Mix. (Each mix pays homage to someone they know. I LOVE that personal touch!) I mixed in some white chocolate chips I had, and shared them with others. Everyone thought they were FANTASTIC!  My friends on Instagram loved the picture too! It ranked as one of my most liked pictures of 2016.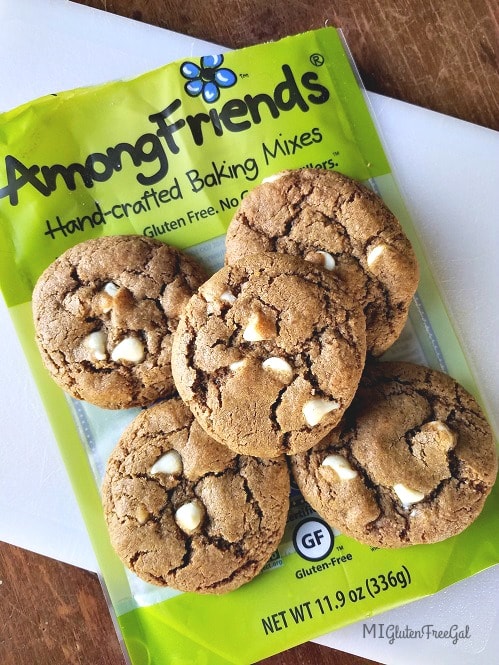 Just like the molasses cookie mix, I received the Suzie Q's mix below in my American Gluten Free box. Suzie Q's are an oatmeal chocolate chip cookie. While I can't eat oats, I appreciate that there are chocolate chips in these cookies. Not raisins, which we all know are chocolate-chip-look-alike-impostors. I added more butter to the mix so the cookies would spread more. (This suggestion is written on the back of the package.) Why the spread? Because oatmeal cream pies.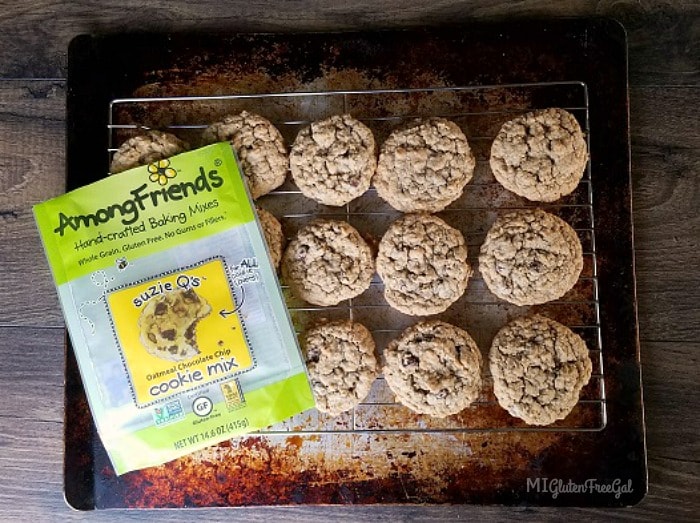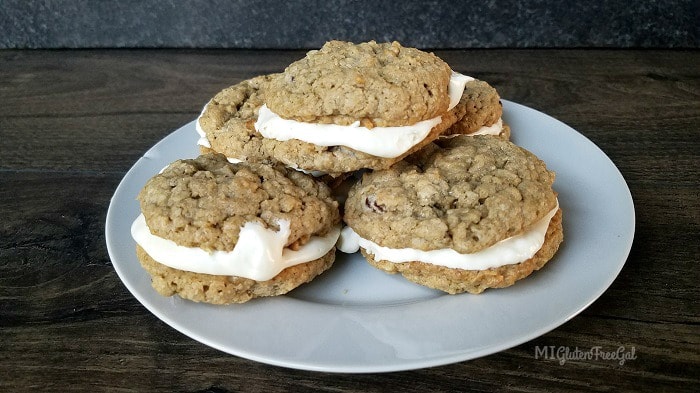 That's right, I turned those Suzie Q's into oatmeal cream pies. They're not quite as thin as the Little Debbie's we remember from pre-diagnosis. Then again, these taste way better because they contain whole grains and no junk. I sandwiched the easiest buttercream frosting (from the Kitchn) between those beautiful cookies. I mean, have you seen anything more beautiful?! Since I can't eat oats, I cut these in quarters and shared them with my support group member. They really enjoyed them. My (non-gf) husband LOVED them! He was super excited that the leftovers found their way into his lunchbox.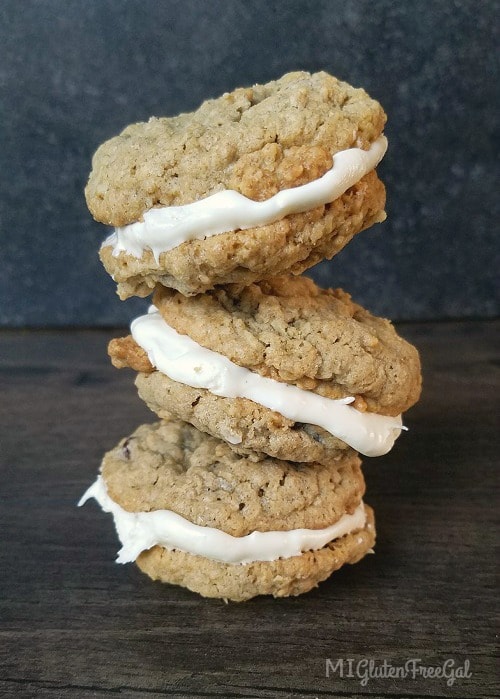 So, the next time you see these in the store, grab an Among Friends Baking Mix and help support local. The added bonus is you get cookies out of the deal!
Have you tried Among Friends Baking Mixes? Which mix is your favorite? What other Michigan-made brands are you proud to support? Share the love in the comments below!