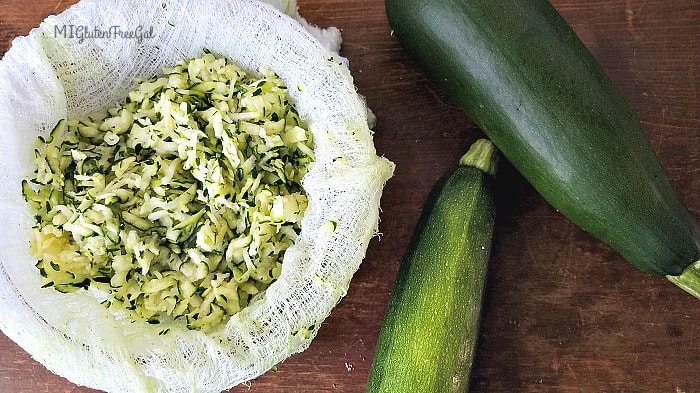 The first time I made this gluten-free blueberry zucchini bread as in 2013. I was recovering from an injury that August, which seems to be right on schedule for me. I had fallen down the stairs at my church and severely sprained my ankle. As I hate crutches, I convinced my husband to bring up my rolling desk chair, which was in the basement. It became my personal scooter/wheelchair. It's handy for when you want to do the dishes and make lunch. Or make gluten-free blueberry zucchini bread because you recently picked 8.5 lbs of blueberries and you're bored out of your mind. What's that you say? Your zucchini crop is starting to come in gangbusters? Yep, this gluten-free blueberry zucchini bread is definitely a necessity. (P.S. – The rolling chair also makes your dog look at you funny as he's wondering WHAT on earth you're doing.)
I found this gluten-free blueberry zucchini bread recipe on AllRecipes.com. Actually, it was the ONLY recipe I could find in their database that uses both blueberries and zucchini. I cut the recipe in half, and made some substitutions. Like ya do. Now that I'm updating the recipe and photos, I used one of my new go-to gluten-free flours, Krusteaz Gluten-Free All Purpose Flour. I also substituted Penzey's Baking Spice for the original cinnamon called for in the recipe. It contains a mixture of two different types of cinnamon along with other wonderful aromatics. It may just be my new favorite baking tool.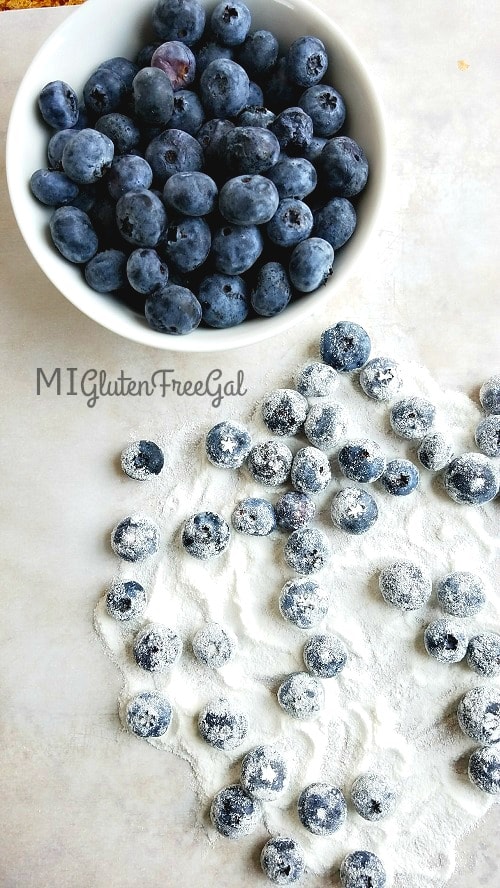 My other substitutions? Well, I used 1 whole egg and two tablespoons egg white. Why egg white? Because it's what I had in the house, lol. I also replaced the oil with a 1/2 applesauce, 1/2 oil combo, just like in my applesauce bundt cake. The recipe appeared overly sweet, therefore I used half white sugar and half brown sugar, but less than the total amount listed in the recipe.
I recently purchased a Hamilton Beach food processor, and it made mixing this recipe a breeze. I've never seen zucchini shred so easily! To make this gluten-free blueberry zucchini bread turn our perfectly, you want to squeeze the excess water out of it. (Just like in my cauliflower pizza.) I shredded and squeezed my zucchini first. That way, it could dry out more while I mixed the other ingredients. I also rolled my blueberries in a little bit of rice flour. This prevents your blueberries from sinking to the bottom of the loaf.
And this is how the bread turned out-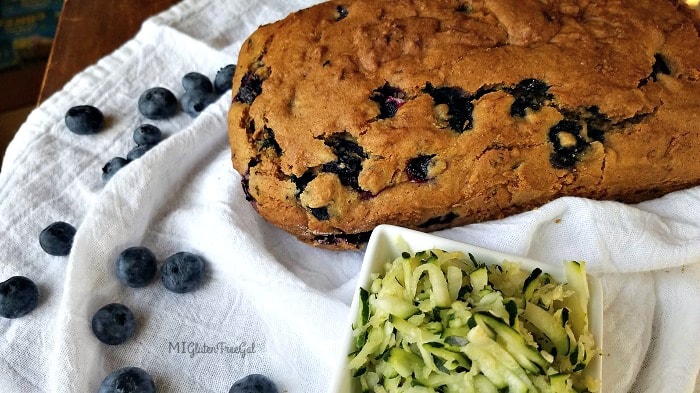 Quite a few people suggested coating the top with a streusel mixture of flour, sugar and cinnamon. However, I think this gluten-free blueberry zucchini bread is absolutely perfect on its own. If you'd like to make these more portable, you could easily bake these as muffins. Just follow the guidelines I shared from King Arthur Flour in my
Banana Muffin Cinnamon Chip post
.
Gluten-Free Blueberry Zucchini Bread
Author:
Prep time:
Cook time:
Total time:
Ingredients
Dry Ingredients
1 1/2 cup gluten-free flour (I used Krusteaz)
1/2 tsp salt
1/2 tsp baking soda
1/2 tsp baking powder
1 1/s tsp Penzey's Baking Spice (or cinnamon)
Wet Ingredients
1 egg
2 tbsp egg white
1 1/2 tsp almond extract
1/3 c brown sugar
1/3 c white sugar
1/4 c oil
1/4 c applesauce
1 c zucchini
1 c fresh blueberries, lightly rolled in rice flour
Instructions
Directions
Preheat oven to 325. Shred zucchini in food processor or with box grater. Transfer zucchini to bowl lined with cheesecloth or a towel. Gather fabric around zucchini and squeeze out excess water. Return to bowl and allow to dry further.
In a small bowl, mix dry ingredients together. Set aside.
In large bowl combine wet ingredients. Once those are mixed, slowly add dry ingredients. Mix thoroughly to incorporate all flour, etc.
Next, coat blueberries in two to three tablespoons rice flour to prevent them from sinking as they bake. Gently fold in zucchini and blueberries. Transfer to greased and parchment lined pan.
Bake at 325 for 60 minutes. Remove from oven to cool, in pan, for 20 minutes. Remove loaf from pan to cool completely.
What's your favorite type of quick bread? And what are your favorite ways to use zucchini? My friends keep dropping them off!
**I was given free product from Krusteaz, but was not otherwise compensated for this post. All thoughts and opinions are my own.**