Only one small problem: I wasn't entirely sure where it was at.
So I'm heading west towards the rows of strip malls, thinking I'll stop at a 7-11 or something and ask if they know of the bakery which I seek. But low and behold, it was directly in front of me. Yeah!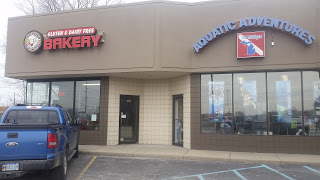 **Note** No More Belly Aching has moved since this post was originally written.
It was previously just off Lee Rd. The new location, pictured above, is on Grand River.
As I walked in I was kindly greeted, as my eyes perused the shelves. What should I buy? There were all sorts of sweet baked goods…but after a week's worth of vacation, I knew that those were the last things that I needed. I spied a bag in their freezer case of 6 wraps for $6.99. This may seem a little pricey, but I kept in mind that I was supporting a local bakery, whose profits go back into the local economy, not a major national brand.
So when I got home, I was eager to try my new purchase. I used a wrap, which is really more like a pita or flatbread, to eat some leftover ratatouille. The bread was very tender and fluffy. My husband found it enjoyable as well. Not bad on it's own, but I was eager to try it as a pizza crust.
To be creative in my pizza making, I thought I would puree some leftover ratatouille in my mini food processor and use that as my pizza sauce. I placed the "naked" wraps in a 350 degree oven, probably for about 15-20 minutes, until they were just golden brown. (In retrospect I wish I would have baked them longer, for a crispier crust). Then I layered my sauce, topped it with mushrooms and mozzarella cheese, and continued to bake them in the oven. I can't really tell you how long I baked them for, as I was busy talking on the phone.
I thoroughly enjoyed my pizzas, as did my husband. I think I will do it again. 🙂
A recipe from the infamous Betty Crocker cookbook, 23rd printing, 1974. (hard cover pg. 426)
1 medium eggplant (about 1 1/2 lbs.)
2 small zucchini ( about 1/2 lb.)
1 cup finely chopped green pepper (1 whole)
1 medium onion, finely chopped
4 medium tomatoes, peeled and quartered
( I used 2 cans of Aldi's Italian diced tomatoes, perfect!)
1/4 c. olive oil
(I barely use any at all, as it's not really necessary)
1 clove garlic, crushed
2 teaspoons salt
1/4 tsp. pepper
Cube eggplant and zucchini. (I leave the skin on mine.) Cook and stir all ingredients until heated through. Cover; cook over medium heat, stirring occasionally, about 10 minutes or until vegetables are crisp tender.
****Me personally, I like it much more tender than what comes out after 10 minutes. I let mine simmer for probably at least 20 -30 minutes.
Enjoy!