If you ask my husband, the word "oops" come out of my mouth. A lot. Usually when ranch dressing is involved. However, this "oops" turned a previous baking disaster with King Arthur Flour into a delicious sweet and salty treat. Thanks to using a cookie mix from GF Jules, my "oops bark" from 2012 is now a beautiful White Chocolate Chip Cookie Pretzel Bark.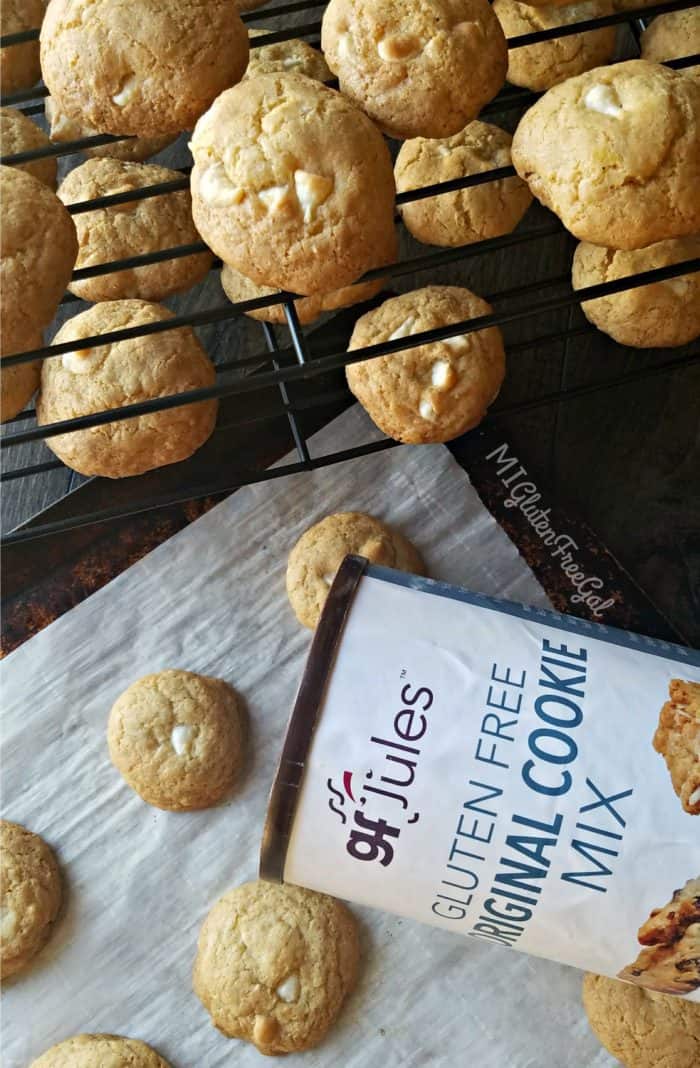 So back in 2012, just a few months into blogging, I attempted a batch of white chocolate chip cookies using King Arthur Gluten-Free Flour. They totally spread out and looked horrible. Not sure what went wrong. Thinking back, it may be that their multi-purpose flour has no xanthum gum in it. (For a successful recipe using that flour, check out my gluten-free vegan chocolate cake!) Instead of dumping all the crumbs, we ground them in my food processor, along with gluten-free pretzels, and sprinkled it over melted chocolate. Even if it didn't look pretty, it was quickly devoured.
Fast forward to 2017. Each month I slowly remake some of my old recipes. My friend Jules Shepard , amazing Celiac Disease advocate and owner of GF Jules, offered to send me her Original Cookie Mix and Pizza Crust Mix to try. (I plan to use the pizza mix to redo my Mini Deep Dish Pizzas!) The Original Cookie Mix comes in a canister, so if you don't want to make the whole can, it conveniently has a lid on top to save the rest for later. I LOVE that! When I first received GF Jules' products, I made a tiny batch of White Chocolate Chip cookies. (I used Nestle White Morsels in them.) The flavor was great. I later realized I wanted to use the prepared cookie mix to turn my "oops bark" into a proper White Chocolate Chip Cookie Pretzel Bark.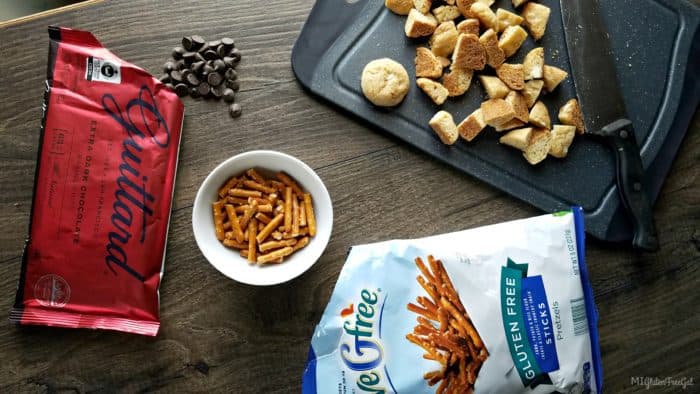 As for the remaining ingredients, I chose to use Guittard Extra Dark Chocolate chips. Guittard baking chips stand among my top three favorite baking chips to use. (Enjoy Life and Andes are the other two.) Why? Because Guittard produces their chips in a dedicated gluten-free AND peanut-free facility.  (As does Andes. Enjoy Life chips are free of the 8 most common allergens, including dairy!) To prepare the dark chocolate base for my White Chocolate Chip Cookie Pretzel Bark, I melted the chips in a glass bowl, over a pot of hot water. Per some suggestions, I added one tsp of oil, but later found the chocolate was super soft. Therefore when (no if) you recreate this recipe, I suggest leaving it out.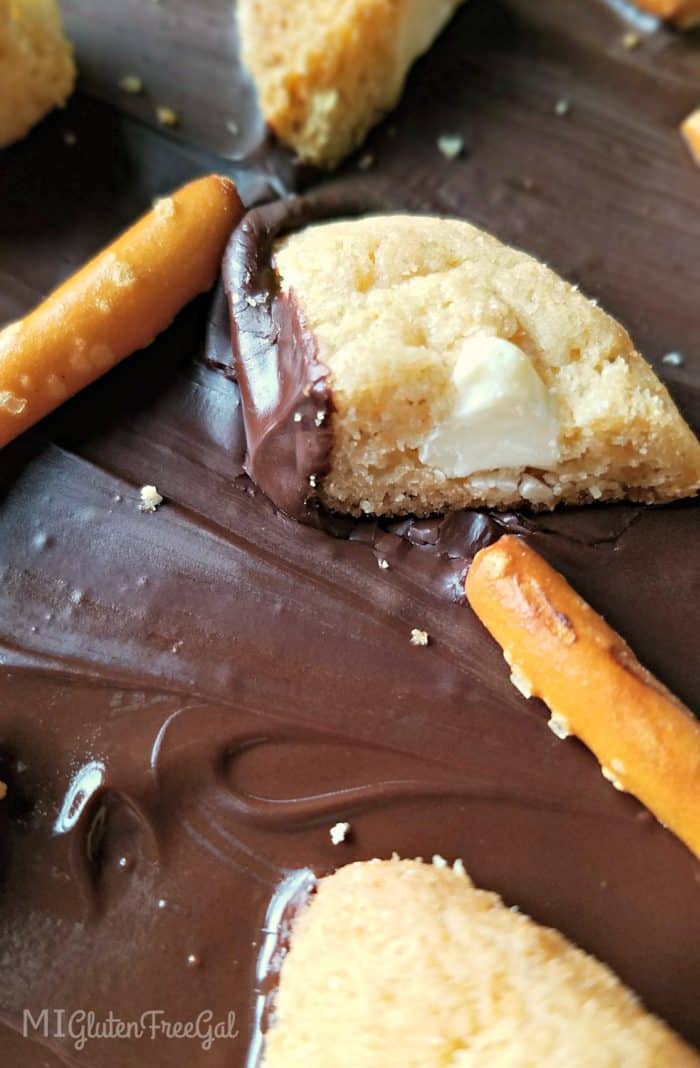 So my White Chocolate Chip Cookie Pretzel Bark wouldn't "bite" I did some research prior to putting it together. It appear most other bloggers left their added bits and pieces whole when adding it to their bark. No cookie crumbs. Not crushed pretzels. Therefore, this is the route I took. It looks beautiful, doesn't it? Unfortunately, I didn't make my chocolate layer thick enough to firmly grasp the pretzel. They rolled right off when I finally broke the bark apart. But chocolate dipped white chocolate chip cookies are still pretty awesome, so we have that going for us!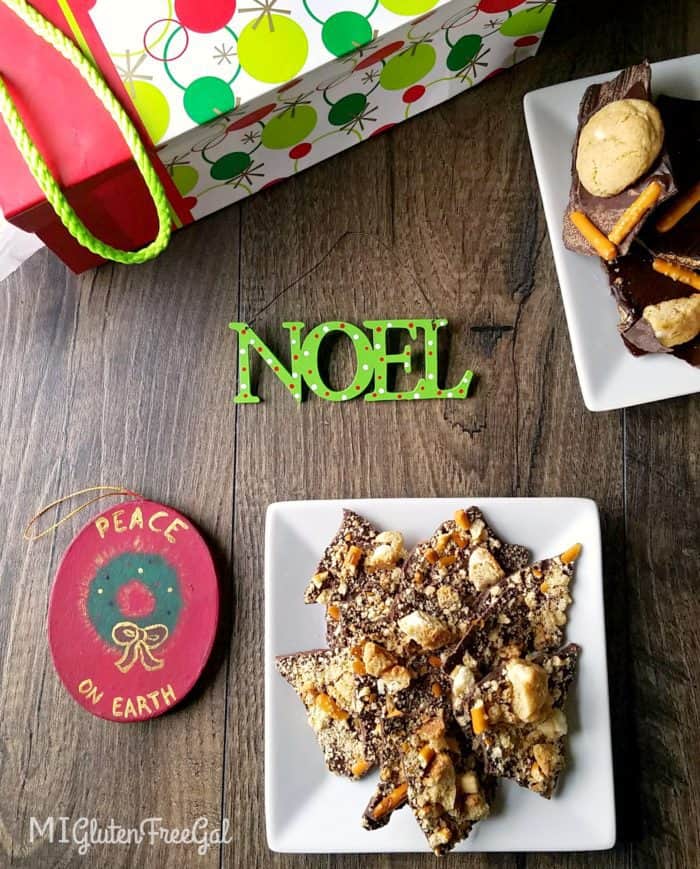 Therefore, I made a second batch of my White Chocolate Chip Cookie Pretzel Bark. Made with crushed up pieces, just the way I like it. It may not be as pretty, but the chocolate grabs it all and you get a mouthful of every single ingredient in each bite. Simple, not fancy, but absolutely delicious. Then again, sometimes the simplest gifts are the best, aren't they? The rest of this White Chocolate Chip Cookie Pretzel Bark found a home in the staff lounge where my husband works. (As did the rest of the cookies.) While they loved every bite, they loved even more that a surprise waited for them when they sat down for lunch.
Don't you just love surprises?
What's your favorite bark topping? Cookies? Candy? Melted chocolate is the perfect canvas for all of your sweet dreams! What surprises do you hope to see this holiday season?